Pred povratno tekmo z Domžalami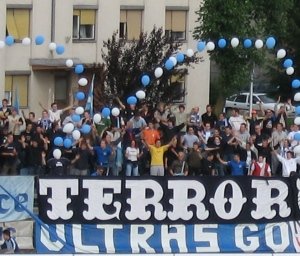 Nova Gorica, 23.03.2010
Hit Gorica na zmago in polfinale. Poglejte si mnenja Davida Peršiča, Matije Široka in Uroša Dovžaka. Poleg tega kliknite na kratek spot NZS.
Na torkovi tiskovni konferenci Nogometnega društva Gorica je beseda tekla o zadnji zmagi nad Rudarjem ter o sredini povratni tekmi četrtfinala slovenskega pokala proti Domžalam. Kot je znano se je prva tekma končala z 1:1. Prisotni so bili trener David Peršič, mladi bočni branilec Matija Širok ter član izvršnega odbora društva, ki skrbi za tekmovalni del Uroš Dovžak.
Trener David Peršič je bil izčrpen: ''Seveda smo z zmago nad Rudarjem zelo zadovoljni. Lahko bi zmagali s še višjo razliko. Prvič se nam je zgodilo, da smo zaostajali. Ob tem bi izpostavil reakcijo igralcev, ki so kljub mladosti takoj zaigrali bolj odločno in tekmo povsem preobrnili. Glede tekme z Domžalami pa mislim, da ni še nič odločeno. Zagotovo ne bomo igrali na remi brez zadetkov, saj bi si s tem sami povzročili težave. Domžale so dobra ekipa, zato se bomo morali za zmago potruditi. Ekipa bo skoraj enaka kot na zadnjih tekmah, zaradi poškodbe je vprašljiv le nastop Milana Ostreca, v moštvo pa se vrača Admir Kršič.''
Eno izmed odkritij prvih spomladanskih krogov je tudi branilec Matija Širok: ''V tekmi z Rudarjem smo pokazali našo pravo voljo. Nismo popustili niti za trenutek, saj smo si zelo želeli uspeha. Za zdaj nam res gre vse, kot smo si lahko le zamišljali. Tudi v sredo se bomo mogli zelo potruditi za uspeh, a verjamem, da nam bo uspelo.''
K besedi je pristopil tudi Uroš Dovžak: ''Nismo si mogli misliti, da bomo po prvih štirih tekmah stoodstotni. To je zelo lep dosežek, še posebej če vemo, da je povprečna starost ekipe komaj nekaj čez 20 let. To še enkrat potrjuje izjemno delo mladinske šole in trenutnega strokovnega vodstva. Sredina tekma pa je za nas zelo pomembna. Naj povem, da si zelo želimo, da bi osvojili pokalno lovoriko. S tem bi se tudi prebili v Evropo.''
Igralci so danes prejeli tudi januarsko plačo, kar je pred dvobojem z Domžalami zelo vzpodbudno.
Na spodnji povezavi si lahko ogledate kratek spot, ki ga je pred povratno tekmo pripravila Nogometna zveza Slovenije.
http://www.hervispokalslovenije.si/hervis-novice/2010-03-22-Domzalcani-in-Goricani-po-napredovanje