Visoka zmaga nad Interblockom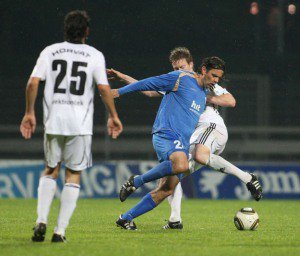 Nova Gorica, 05.05.2010
Osterc že pri 61. golu za Gorico, uspešni so bili še Brečević, Zarifović, Cvijanović in Nikolić
Z izjemno učinkovito, povezano in dopadljivo igro so nogometaši Hita Gorice v deževnem vremenu zabeležili tretjo zaporedno zmago, osmo spomladi in drugo s petimi zadetki razlike nad Interblockom.
Že uvodne minute so ponudile nekaj lepih kombinacij, ki jih je z zadetkom z glavo po podaji s kota kronal Ivan Brečević. Domači so vseskozi nadzorovali potek igre. Mlada ljubljanska ekipa se je organizirano branila, nekajkrat pa so varovanci trenerja Borivoja Lućića, ki je močan pečat pustil tudi z delom v mlajših selekcijah v Novi Gorici, tudi prešli v hiter protinapad, enkrat so zatresli prečko Simčičevih vrat.
Novogoričani so prednost podvojili po pol ure igre. Demirovič je izvajal prosti strel, podal v sredino, kjer se je najboljše znašel branilec Aris Zarifović. To je bil krsti zadetek Zarifovića letos, sicer drugi v prvi ligi.
Veliko več emocij je ponudilo nadaljevanje. Dalj časa se tekmeca nista spustila v odprt boj, nakar so gostje zaigrali bolj pogumno, kar je ponudilo več prostora domačim igralcem. Trener David Peršič je v 68. minuti ob bučnem aplavzu opravil zamenjavo Ivana Brečevića z Etienom Velikonjo.
Na 3:0 so domači povišali v 77. minuti, ko je Milan Osterc zadel po odbiti žogi. To je bil že 21. gol Osterca letos, skupno pa jubilejni 60. v dresu Hita Gorice v državnih prvenstvih!
Gostje so nato z uspešno izvedeno najstrožjo kaznijo prišli do znižanja rezultata, nakar so Novogoričani prek Gorana Cvijanoviča, Ostreca in ob koncu še po strelu z glavo Dragoljuba Nikoliča do vrha napolnili gostujočo mrežo.
Po tekmi je posebej za nd-gorica.com povratnik po poškodbi Etien Velikonja dejal: ''Zame je vrnitev veliko zadovoljstvo. Vem, da moram trdo delati in počasi pridobivati igralne minute. Danes smo že od začetka pokazali, da smo boljša ekipa. Ves čas smo nadzirali igro, ključen pa je bil zadetek za 2:0, ko smo si priborili lepo prednost.''
Hit Gorica : Interblock 6:1 (2:0)
Športni park, sodniki: Gostenčnik (Maribor), Rajh (Hajdina) in Jovanovič (Celje).
Strelci: 1:0 Brečević (10.), 2:0 Zarifović (32.), 3:0 Osterc (77.), 3:1 Iličić (80./11-m), 4:1 Cvijanović (81.), 5:1 Osterc (84.), 6:1 Nikolić (90.).
Hit Gorica: Simčič, Zarifović (od 76. Nikolić), Balažic, Kršić, Galešić, Širok, Demirović, Brečević (od 68. Velikonja), Cvijanović (od 86. M. Mevlja), Rakušček, Osterc.
Interblock: Jug, Majcen, Rapnik, Jogan, Žitko, Iličić, Tabot, Horvat, Božič, Berić, Valenčič (od 52. Fink).
Rumeni kartoni: Širok, Kršić; Horvat, Tabot.