Z Nafto za Evropo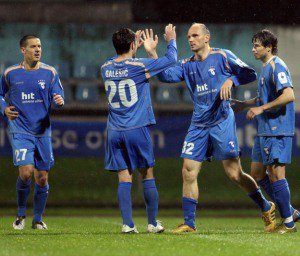 Nova Gorica, 10.05.2010
Brez Brečevića, Demirovića in Široka.
V torek ob 17.00 se bodo nogometaši Hita Gorice zadnjič v letošnji sezoni predstavili domačemu občinstvu. V neposrednem obračunu za uvrstitev v evropske pokale bodo zaigrali proti lendavski Nafti, ki ima enako število točk kot Novogoričani.
Srečanje 35. kroga bo domači trener David Peršič primoran odigrati brez poškodovanih Ivana Brečevića ter Enesa Demirovića, medtem ko ima Matija Širok prepoved nastopa zaradi rumenih kartonov. V moštvo se po odsotnosti vrača bočni branilec Matija Škarabot.
Hit Gorica bo proti Lendavčanom lovila deveto zmago to pomlad, četrto zaporedno. Uspeh bi belo-modre zelo približal končnemu četrtemu mestu, ki še vodi v evropske pokale.
Na današnji novinarski konferenci je trener Peršič povedal: ''Kot ste seznanjeni, je to za nas zelo pomemben nastop. Pomerili se bomo proti tekmecu, ki nam je zelo blizu. Ni potrebno poudarjati, da ima Nafta odlično ekipo. Mi imamo svoj cilj: zmagati na obeh preostali tekmah, kar bi nam zagotovo prineslo mesto v evropskih pokalih. Ekipa je tega sposobna. Zaradi poškodb in kazni bom nekako prisiljen malo premešati postavo.''
Podobnega mnenja sta tudi branilec Matija Škarabot, ki po koncu sezone zapušča vrste belo-modrih, ter član uprave Uroš Dovžak. Škarabot je dejal: ''Izkoristiti moramo priložnost, ki se nam ponuja. Vemo, da se je Gorica vedno uvrščala v Evropo in naredili bomo vse, da nam bo tudi tokrat uspelo. Smo v dobri formi, kar je naša prednost.''
Po torkovi domači tekmi bodo Novogoričani v zadnjem prvenstvenem krogu igrali v nedeljo v Velenju.
ND Gorica - vse pravice pridržane!