Tretja zaporedna zmaga!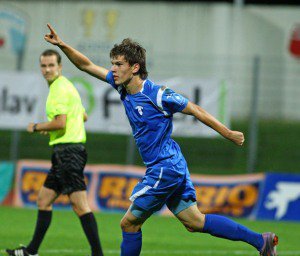 Nova Gorica, 18.09.2010
Zadela sta Kršić in Jogan.
V deževnem vremenu in izjemno težkih pogojih so nogometaši Hita Gorice v zadnji tekmi prve četrtine državnega prvenstva v Velenju premagali domači Rudar z 2:1. To je tretja zaporedna zmaga Novogoričanov.

Po dinamičnem začetku tekme in nekaterih priložnostih na obeh straneh, so gostje do vodstva prišli v 35. minuti. Strel proti domačim vratom je sprožil Admir Kršić. Žoga je oplazila enega izmed domačih branilcev, presenetila vratarja in končala v mreži. Domači so izenačili 5 minut pozneje. Po gneči v kazenskem prostoru Novogoričanov se je do žoge dokopal igralec Rudarja Korun in rezultat izenačil.

Belo-modri so v nadaljevanju tekme prav tako prikazali vzpodbudno predstavo, plod katere je bil dosežen zmagoviti zadetek. Akcijo v 64. minuti je lepo izpeljal Sandi Arčon, ki je pred domačimi vrati našel Krisa Jogana, ki je zadel za zmago. To je bil drugi zaporedni gol mladega nogometaša v Prvi ligi.
Novogoričani so do konca tekme zadržali vse poizkuse domačih, ki so v končnici srečanja ostali še brez dveh izključenih nogometašev. Tudi Hit Gorica tekmo ni končala v popolni postavi, saj je moral v 83. minuti z igrišča branilec Aris Zarifović.

Naslednja tekma čaka Hit Gorico v sredo v Lendavi.
Rudar Velenje : Hit Gorica 1:2 (1:1)
Stadion Ob jezeru, sodniki: Perič, Žunič (oba Kranj) in Rep (Radovljica).

Strelci: 0:1 Kršić (36.), 1:1 Korun (41.), 1:2 Jogan (65.).

Rudar: Savič, Jeseničnik, Novaković, Cipot, Korun, Trifković, Djermanović, Roj (od 46. Mešić), Mujaković (od 70. Metelka), Tolimir (od 80. Tomčak), Dedić.

Hit Gorica: Simčič, Zarifović, Balažic, Kršić, Velikonja, Kurtič, M. Mevlja, Arčon (od 77. Volarič), Komel (od 55. N. Mevlja), Širok, Jogan.

Rumeni kartoni: Novaković, Trifković; Zarifović, Balažic.
Rdeči kartoni: Trifković (82.), Korun (83.); Zarifović (83.).