Pet novih članov ND Gorica se predstavi!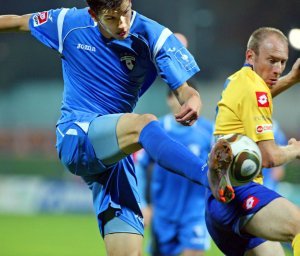 Nova Gorica, 01.02.2011
Preberite izčrpno poročilo o dogajanju v klubu

Športni direktor ND Gorica Uroš Dovžak je na torkovi tiskovni konferenci podal zaključne misli ob izteku prestopnega roka. V zimskem prvenstvenem premoru je ND Gorica zapustilo pet nogometašev, prav toliko pa jih bo na prihodnjih tekmah prvič nosilo belo-modri dres.

''Ta prestopni rok je bil daleč najbolj zanimiv v zadnjih letih. Precej je bilo odhodov, prav toliko pa prihodov, saj smo za vsako izpraznjeno mesto dobili novega igralca. Gre za igralce, ki spadajo v naš koncept, so torej mladi, obetavni in domači. Med njimi so tako nekdanji reprezentanti U21 kot igralci, vzgojeni v Novi Gorici. Ti fantje so za nas dolgoročne rešitve, zato smo z njimi podpisali dolgoročne pogodbe,'' je povedal Uroš Dovžak in dodal: ''ND Gorica je s prodajo igralcev sanirala finančno stanje. Tudi zato smo, še posebej velja to za primer Gregorja Balažica, nekatere igralce prodali, čeprav si tega nismo ravno želeli."

Kot je znano so Novo Gorico zapustili Jasmin Kurtić (US Citta' di Palermo, Italija), Etien Velikonja (NK Maribor), Nejc Praprotnik (Atalanta BC, Italija), Gregor Balažic (FC Karpaty Lvov, Ukrajina) ter Sebastjan Komel (FC Brussels, Belgija).
Za Hit Gorico bodo v prihodnjem obdobju nastopali:
Vito Plut, 22 let, prejšnji klub: NK Maribor, št. dresa: 14
''Zelo sem bil vesel, ko sem slišal, da se Gorica zanima zame. V Mariboru nisem dobil veliko priložnosti za igro, zato upam, da se bom tu izkazal in s tem prepričal trenerja, da mi bo namenil čim več minutaže, da bom lahko odigral kakšno tekmo več kot v Mariboru.''
Nemanja Vidić, 21 let, FC Zemun (Srbija), št. dresa: 29
''Srečen sem, da sem iz Srbije prišel v Slovenijo, v prvo slovensko ligo, za katero sem slišal, da je dobra za mlade igralce. To še posebej velja za Gorico, kjer sem se že spoznal z vsemi in kjer se dobro počutim. Mislim, da je to pravi klub zame, da bom tu, seveda ob trdem delu, lahko napredoval in da bo zame to dobra odskočna deska.''
William Franklin Vicente, 21 let, prejšnji klub: Figueirense FC (Brazilija), št. dresa: 9
''Že od malega, ko sem v Braziliji igral po ulicah in improviziranih nogometnih igriščih, sem si želel igrati v Evropi. Ta želja se mi je uresničila, Gorica pa je zame klub, v katerem si želim profesionalno dozoreti.''
Boris Mijatović, 22 let, prejšnji klub: CM Celje, št. dresa: 26
''Izredno zadovoljen sem, da sem pristal v Novi Gorici. Moj prvi cilj je z Gorico čim prej v Evropo, sam pa si seveda najbolj želim, da bi z dokazovanjem čimbolj pomagal ekipi in nadaljeval z uspešno kariero.«
Alen Jogan, 25 let, prejšnji klub: ASD Buttrio (Italija), št. dresa: 27
''Zame je bila Gorica vedno velik klub¸zato ji želim, kakor tudi sebi in ostalim, vse najboljše. To tudi pričakujem v nadaljevanju sezone, z željo, da se uvrstimo v enega od evropskih pokalov.''

Dovžak je ob tem povedal, da potekajo pogovori še z enim igralcem iz slovenske Prve lige, razkril pa je tudi, da bo ND Gorica za naslednjo sezono v mesto vrtnic pripeljala še dve okrepitvi, s katerima je uprava že našla skupni jezik in se dogovorila za sodelovanje.
Športni direktor belo-modrih je ob tem izpostavil sodelovanje, ki se je v prestopnem roku vzpostavilo z italijanskimi klubi Palermom, Atalanto in Sieno, ki so Goričanom na posodo ponudili nekaj igralcev: ''Odločili smo se, da teh ponudb ne sprejmemo, saj želimo uveljaviti domače igralce,'' je pojasnil Dovžak.
Dino Martinović se po posodi iz Bele krajine vrača v domačo vrsto, pol sezone pa se prav tja seli Dejan Žigon.
Trenutno sta izven pogona Sandi Arčon (rahla poškodba) in Kris Jogan (pljučnica), zato tudi nista dobila poziva v reprezentanco Slovenije U-21. Poškodovani so tudi Miha Gregorič, Luka Volarič in Amedej Vetrih. Senegalec Welle N'diaye bo po zares neverjetnih birokratskih zapletih v Novo Gorico vendarle prišel še v tem tednu.
Glede dogodkov na igrišču je spregovoril trener David Peršič: ''Zadovoljen sem z dosedanjim potekom priprav. Fantje so izredno motivirani, užitek je delati z njimi. Upam in želim si le, da ne bi prišlo do kakšnih nepredvidljivih poškodb, sicer pa v naslednjem tednu pričakujem priključitev povratnikov po poškodbah, ki nam bodo prišli še kako prav.''
Kot je znano bodo Novogoričani v tem tednu odigrali tri prijateljske tekme, nakar se 10. februarja podajajo na desetdnevne priprave v Turčijo.