Do srede doma, v četrtek v Antalyjo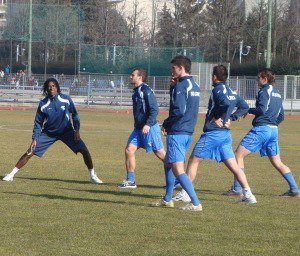 Nova Gorica, 07.02.2011
Prva tekma v Turčiji v nedeljo
Člani belo-modre zasedbe so danes po dveh tekmah v soboto in nedeljo opravili nova dva treninga. Le še dva dneva pa jih ločita od odhoda v turško mesto Antalyja, kjer bodo bivali in se pripravljali od 10. do 20. februarja.
Spored treningov v tem tednu do odhoda v Turčijo je sledeč:
ponedeljek
treninga ob 10.00 in ob 15.00
torek
treninga ob 10.00 in ob 15.00
sreda
trening ob 10.00
četrtek
ob 5.30 odhod v Antalyjo
Novogoričani bodo v Turčiji nastanjeni v kraju Colakli Side poleg Beleka, okrog 30 kilometrov vzhodno od Antalyje. Tam so naši igralci bivali tudi med lanskoletnimi pripravami.
Kot napovedano bo Hit Gorica prvo tekmo na turških tleh v kraju Belek odigrala v nedeljo 13. februarja ob 15.30 proti romunski ekipi ACF Gloria 1922 Bistrita. To moštvo je po jesenskem delu romunskega prvenstva na 11. mestu med osemnajstimi ekipami. Spomladanski del sezone pa Bistrita pričenja le pet dni po srečanju z Novogoričani, tako da bo zanje to generalka pred vstopom v državno prvenstvo.