Generalka uspela! V soboto vsi v Športni park!
Nova Gorica, 19.02.2011
Ob zmagi nad Napredkom zadela Kris in Alen Jogan
V sklepnem pripravljalnem srečanju zimskih priprav, ki je bilo hkrati zadnje na turških tleh, so nogometaši Hita Gorice dosegli zmago proti srbskemu klubu FK Napredak Kruševac.
Novogoričani so zmagali z 2:0. Ob koncu prvega polčasa je zadel Kris Jogan, v drugem pa je bil uspešen njegov brat Alen Jogan.
Belo-modri so bili skozi celotno srečanje boljši tekmec. Še pred zadetkom so bili zelo aktivni v napadu, saj so zelo lepe priložnosti imeli Vito Plut (dvakrat), Sandi Arčon ter Franklin Vicente. Toda mreža Srbov se ni zatresla vse do 41. minute, ko je bil natančen Kris Jogan.
V nadaljevanju so Novogoričani kontrolirali igro, si priigrali še nekaj lepih akcij, kar se jim je obrestovalo v drugi polovici polčasa. V 70. minuti je drugi zadetek po povratku v ND Gorica dosegel Alen Jogan.
Prvič je na tokratnih pripravah zaigral mladi Nejc Praprotnik. Zaradi poškodb in bolezni so tekmo izpustili Dino Martinović, Goran Galešić ter Boris Mijatović.
Trener David Peršič je bil po srečanju razumljivo zadovoljen. Za nd-gorica.com je povedal: ''Za nami je uspešna preizkušnja. Bili smo občutno boljša ekipa. Uspešno in pametno smo igrali v obrambi in na sredini, v napadu pa smo imeli ob dveh zadetkih še številne priložnosti. Vidi se, da še vedno šepa realizacija. To bo potrebno čimprej popraviti. Veseli me kompaktnost in disciplina v igri.''
Svojega trenerja sta s pogledoma na igro dopolnila vratar Vasja Simčič ter zvezni igralec Danjel Rakušček.
Simčič je izjavil: ''Čez celotno tekmo smo bili veliko boljši nasprotnik. Nadzirali smo potek tekme. Zmagati bi morali z višjo razliko. Lepo je da smo zaključili priprave z zmago, ki je dobra popotnica za prvo tekmo z Olimpijo.''
Rakušček ga je dopolnil: ''V hladnem in vetrovnem vremenu smo odigrali še zadnjo prijateljsko tekmo v Turčiji. Bili smo boljši nasprotnik. Priigrali smo si še nekaj priložnosti, ki pa jih žal nismo izkoristili. Poleg dobre igre, smo bili tokrat tudi rezultatsko uspešni, kar je dobra iztočnica za začetek prvenstva.''
To je bila zadnja pripravljalna tekma Hita Gorice pred pričetkom spomladanskega dela prvenstva.
Hit Gorica : Napredak Kruševac 2:0
Strelca: K. Jogan 41., A. Jogan 70.
Postava Hita Gorice:
Simčič (od 60. Rupnik), Buzeti (od 81. Šuligoj), Širok (od 46. Jogan A.), Zarifović (od 46. Gregorič), Mevlja N. (od 81. Kravanja), Mevlja M. (od 46. Kršič), Rakušček (od 65. Vidić), Vicente (od 81. Stojanović), Arčon, Jogan K. (od 60. Žigon), Plut (od 78. Praprotnik).

Vsi športni navdušenci, poznavalci nogometne igre in navijači!
Ne pozabite, da Hit Gorica nogometno pomlad pričenja čez teden dni, v soboto 26. februarja, ko v Športni park prihaja vselej kultna in nepredvidljiva Olimpija. Z vašo pomočjo bo zmaga nad zelenimi zmaji še toliko več vredna! Torej, se vidimo v soboto!
Kot zanimivost naj dodamo, da so se med pripravami poškodbe dotaknile tudi člane strokovnega štaba ND Gorica. Nepričakovano si je namreč koleno poškodoval športni direktor Uroš Dovžak. Fizioterapevtska služba mu že nudi pomoč v upanju, da bi čim hitreje okreval.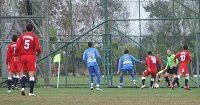 Foto: ND Gorica
ND Gorica - vse pravice pridržane!