David Peršič o tekmi s Koprom, pričakovanjih pred derbijem s Primorjem ter o podpori Terror boysev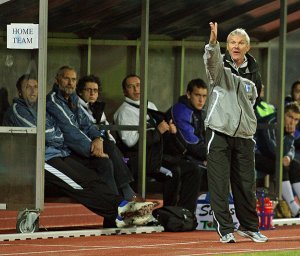 Nova Gorica, 17.03.2011
Moštvo Hita Gorice je v sredo na Bonifiki prikazalo dopadljivo in bojevito predstavo. S takšnim nadaljevanjem bodo zagotovo prišli še boljši rezultati. V to je prepričan tudi šef strokovnega štaba štirikratnih prvakov David Peršič.
Novogoriški trener se je sprva ozrl na primorski derbi proti Koprčanom: ''Z igro in pristopom sem zadovoljen, z rezultatom nekoliko manj. Mislim, da smo si priigrali več priložnosti kot domači in smo bili bližje vsem trem točkam. Tekma je bila prava prvenstvena, brez popuščanja ali taktiziranja. Moji fantje so, tako kot v Mariboru in kot v drugem polčasu proti Celjanom, pokazali pravi odnos. Pristop in motivacija sta bila vrhunska, kar se je odrazilo v igri ter v rezultatu. Dokazali smo, da lahko igramo dobro in znamo dosegati zadetke. Toda zmage in dobre igre bodo prišle zgolj, če bomo v tekme vstopili odločno, brez strahu in z jasnim ciljem. Vesel sem tudi, da smo se kar dvakrat po zaostanku uspeli pobrati. To kaže na karakter te ekipe.''
Peršič je nekaj besed namenil tudi sobotnemu lokalnemu derbiju s Primorjem: ''Znova ponavljam, da bomo zmagali le s pravim pristopom. Primorje je na zadnji tekmi visoko izgubilo, toda to nas nikakor ne sme zavesti. Vsaka tekma je poglavje zase. Moramo gledati na svoj odnos do tekme. Če bomo stoodstotni, bomo derbi tudi dobili. Sicer nimamo možnosti.''
Ob tem razmišljanju je dodal: ''Po dveh bolj kot ne neposrečenih domačih nastopih smo se s fanti pogovorili v čem je glavna težava domačih tekem. Igralci so mladi, čutijo določen pritisk. Radi bi zadovoljili goriško publiko, kar pa je zelo težko. Pričakujejo in potrebujejo vzpodbudo, da bodo sproščeni in tako pokazali več znanja, ki ga nedvomno imajo. Zelo me jezi, ko s tribune že po desetih minutah slišimo opazke, ki nimajo dobrega namena. Vse to vpliva na igralce, jim poveča pritisk. Če je bučno navijanje, se posameznih besed ne sliši. V nasprotnem primeru pač. Že večkrat sem ponovil, da mlada ekipa potrebuje vzpodbudo.''
Trener belo-modrih se ni mogel izogniti pohvalam navijaški skupini Terror boys: ''Zaslužijo si vse pohvale. So zelo kulturni navijači. Spremljajo nas tudi na gostovanjih. Fantje vse to vidijo in so podpore zelo veseli. Dajejo jim dodaten motiv. Res kapo dol tudi za navijanje v Kopru. Postavili so jih na dež, a so celo tekmo vztrajali v navijanju. Ekipi zelo veliko pomenijo.''
Peršič je dodal, da bo po visoki vročini in nekajdnevnem počitku v kadru za sobotno tekmo tudi zvezni igralec Danjel Rakušček. Nastop prvega vratarja Vasje Simčiča je še vprašljiv, medtem ko se po prestani kazni v moštvo vrača krilni napadalec Sandi Arčon.
Tako kot na preteklih domačih tekmah, tudi za severnoprimorski derbi ND Gorica pripravlja spremljevalni program za prisotne gledalce. Tudi zato si v soboto ob 18. uri vzemite čas in pridite v Športni park. Vljudno vabljeni!
ND Gorica – vse pravice pridržane!