Na lokalnem derbiju poker belo-modrih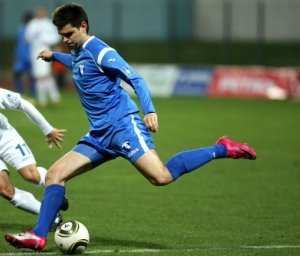 Nova Gorica, 19.03.2011
Dva zadetka Galešića, po enkrat sta zadela Vicente in Plut
Na tretji domači tekmi to pomlad so nogometaši Hita Gorice zabeležili prvo zmago. V Športnem parku so ob podpori domačih navijačev Terror boysev premagali Primorje s 4:1.
Novogoričani so nastopili brez poškodovanega vratarja Vasje Simčiča. Uspešno ga je zamenjal Anže Rupnik. Na desnem boku je Matijo Široka zamenjal Rok Buzeti. V moštvo se je vrnil Sandi Arčon.
Domači so krenili odločno. V 4. minuti je Miha Mevlja poslal globinsko podajo proti Goranu Galešiću, ki je z udarcem na prvo žogo zadel za vodstvo. Le tri minute zatem je imel Vito Plut na nogi žogo za povišanje prednosti. Njegov strel z leve strani je zletel tako mimo vratarja Primorja kot tudi mimo daljše vratnice.
Sledile so minute mirnejše igre, v kateri so imeli domači pobudo. Vse do 25. minute pa nismo videli pravega zaključka. Tedaj je Brazilec Franklin Vicente izjemno prodrl po levi strani, streljal z okrog 12 metrov, a je gostujoči vratar Admir Suhonjič strel ubranil. Takoj zatem je s strelom z razdalje poizkušal Miha Mevlja.
Do dvojne prednosti so domači prišli v 28. minuti. Goran Galešić je izkoristil napako pri izbijanju gostujočega čuvaja mreže. Na desni strani na robu kazenskega prostora je prišel do žoge in zadel prazna vrata. Igra domačih je bila na zelo solidnem nivoju, gostje pa so si ustvarili le redke polpriložnosti.
Tretji zadetek je v mreži Ajdovcev pristal v 40. minuti. Franklin Vicente je žogo prejel na robu kazenskega prostora ter z močnim in natančnim strelom dosegel svoj tretji gol v Prvi ligi.
Tudi v drugem polčasu so bili Novogoričani boljši nasprotnik. Prvo priložnost je takoj po začetnem sodnikovem žvižgu zamudil Plut, ki je sam stekel proti gostujočemu golu, a je bil njegov lob-udarec nekoliko premočan. Pet minut pozneje je iz prostega udarca poizkusil Nejc Mevlja, vendar tik mimo vrat.
Do četrtega gola so domači prišli po lepi akciji na desni strani. Galešić je podal na bok do Roka Buzetija, ki je z zelo natančnim predložkom našel Vita Pluta. Slednji je z glavo žogo poslal v mrežo.
Srečanje se je po visokem domačem vodstvu nekoliko umirilo. Pri Hitu Gorici sta na igrišče v zadnjem delu tekme vstopila Danjel Rakušček, povratnik po bolezni, ki je zamenjal Admirja Kršiča, ter Matija Širok namesto Roka Buzetija.
Primorje je v 75. minuti uspelo znižati zaostanek. Po visoki podaji v kazenski prostor je do žoge prišel Nejc Vidmar, ki je zadel za 4:1. Postavil je končni izid tekme.
Po tem dvoboju sledi dvotedenski premor. Novogoričani bodo v soboto 26. marca ob 16.00 gostovali v Pulju, kjer bodo na novem stadionu Aldo Drosina odigrali prijateljsko tekmo proti NK Istra.
Trener Hita Gorice David Peršič je bil po zmagi zadovoljen: ''V tekmo smo vstopili odgovorno, resno, s pravim pristopom. To se je v prvem polčasu odrazilo s tremi zadetki. Mislim, da je prav tretji gol odločil zmagovalca. Med odmorom smo se dogovorili, da bomo tekmo pripeljali mirno do konca, brez nepotrebnih napak ali kakšnih drugih nevšečnosti. Uspelo nam je. Sedaj smo že štiri tekme brez poraza, kar je zelo vzpodbudno.''
Hit Gorica : Primorje 4:1 (3:0)
Športni park, sodniki: Bukovec (Lendava), Arhar (Vrhnika) in Stančin (Ljubljana).

Strelci: 1:0 Galešić (5.), 2:0 Galešić (28.), 3:0 Franklin (39.), 4:0 Plut (58.), 4:1 Vidmar (76.).

Hit Gorica: Rupnik, Galešić, Zarifović (od 46. Gregorič), Franklin, Kršić (od. 72. Rakušček), Buzeti (od 73. Širok), Plut, N. Mevlja, M. Mevlja, Arčon, Jogan.
Primorje: Suhonjič, Tomič (od 60. Vidmar), S. Kolman, Ihbeisheh (od 73. Božič), Škrbina, Ogrič, A. Živec, Čuturilo, Dežmar, Marič (od 36. Jukan).

Rumeni kartoni: M. Mevlja; Ogrič, Dežmar, Živec, Kolman.