Ob 20.15 v Športnem parku proti Domžalčanom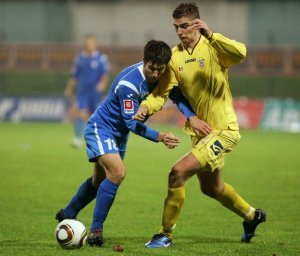 Nova Gorica, 14.05.2011
Vrača se napadalec Vito Plut. Trener Miran Srebrnič: ''Želimo zmago!''
Drevi ob 20.15 Novogoričani v Športnem parku gostijo Domžale. Strokovno vodstvo Hita Gorice na čelu s trenerjem Miranom Srebrničem bo tudi tokrat nekoliko premešalo začetno postavo. V Ajdovščini so belo-modri zabeležili zmago v precej drugačni zasedbi, kot smo je bili vajeni to pomlad.
''Tudi tokrat ne bo nič drugače. Do konca prvenstva so še tri tekme. Na vsaki bomo napadali zmago ter ob tem preizkusili čimveč nogometašev. Domžale so v izjemni pozitivni seriji. Imajo pet zaporednih zmag, kar jih je popeljalo v boj za prvo mesto. So tudi najbolj izkušena ekipa v ligi, tako da bo tekma res težka. Toda mi gledamo predvsem nase. Poizkušali bomo sestaviti ekipo, ki bo nasprotnika premagala. V Ajdovščini nam je to uspelo, upam, da nam bo tudi tokrat,'' je svoje misli za nd-gorica.com uvodoma strnil Miran Srebrnič.
V kader za srečanje se po poškodbi vrača napadalec Vito Plut, zdravje pa še vedno nagaja branilcu Nejcu Mevlji. V sredo smo prvič na sceni lahko videli mladega Senegalca Welleja Ndiayeja. ''On je igralec za prihodnje sezone. Je nadarjen, vendar ga bo potrebno iz nastopa v nastop brusiti. Videli smo ga na delu. Za prvič je igral zadovoljivo,'' je trener belo-modrih povedal o zimski okrepitvi kluba, ki zaradi kasnejše priključitve k ekipi do srede ni nastopil.
Kaznovanih nogometašev k sreči ni. Srebrnič je svojo napoved pred nocojšnjo preizkušnjo zaključil z naslednjimi besedami: ''Pomembno je, da se fantje zavedajo, da ob pravem pristopu lahko premagajo vsakogar. Motivacija na treningih je odlična. Delajo zelo dobro, kar pa ni vedno merilo tudi za tekme. Kljub temu upam, da bodo tokrat predstave s treningov prenesli tudi v igro. Vsi skupaj si želimo končno peto mesto.''
Vabljeni ob 20.15 v Športni park, kjer bomo znova priča tudi nagradnim igram!
ND Gorica – vse pravice pridržane!