ND Gorica in Vasja Simčič podaljšala sodelovanje
Nova Gorica, 16.09.2011
Ob tem dogodku je vratar belo-modrih strnil pričakovanja pred sobotno tekmo s Triglavom
ND Gorica je pred kratkim podaljšala sodelovanje z vratarjem moštva Vasjo Simčičem. Izkušeni zadnji mož ekipe belo-modrih je dogovor s klubom podpisal do junija 2015.
Ob tej priložnosti je posebej za nd-gorica.com Vasja obelodanil razloge za svojo odločitev: ''Tukaj se odlično počutim, tako da smo se s klubom za nadaljnje sodelovanje dogovorili hitro, brez težav in v obojestransko zadovoljstvo.'' Jedrnat odgovor Simčiča pove veliko o aktualnem stanju v zasedbi Hita Gorice. Pogodbo s klubom je doslej imel do konca tekočega prvenstva, tako da sta jo strani podaljšali še za tri leta.
Simčič je svoja pričakovanja pojasnil takole: ''V prvi vrsti si želim, da bi se izognil poškodbam. To je temelj v karieri vsakega športnika. Ob tem si želim dobrega in kakovostnega dela. Če bo to izpolnjeno, pa bodo prišli tudi uspešni rezultati. Tega se ne bojim.''
Igralcev ni vrgel s tira niti zadnji poraz v Velenju: ''To se pač zgodi. V športu so zmage in porazi nekaj običajnega. Zavedamo se, da smo tudi v Velenju odigrali dobro tekmo, na visokem nivoju. Rezultat je tokrat izostal, a pred nami so nove tekme. Glede na našo igro pa se ne bojimo, da ne bi kmalu dosegli novih zmag.''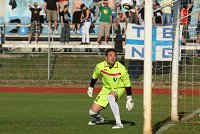 Vasja Simčič
Vasja je povedal tudi nekaj misli pred sobotno domačo tekmo s Triglavom: ''Seveda si vsi želimo zmage. A kot sem že dejal, je nogomet nepredvidljiv. Kljub temu mislim, da smo sposobni tekmo dobiti. Kot vsi igralci pa si tudi mi želimo številne in bučne podpore s tribun. Upam, da nas bo prišlo spodbujat čimveč gledalcev. Imamo res dobro ekipo, ki lahko še veliko napreduje.''
Vabljeni torej v soboto ob 20. uri v Športni park, kjer bodo belo-modri naskakovali peto letošnjo prvenstveno zmago. Nasprotnik je kranjski Triglav Gorenjska.