ND Gorica in Sandi Arčon podaljšala sodelovanje!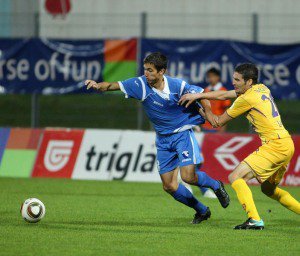 Nova Gorica, 07.10.2011
Vabljeni k branju pogovora s Sandijem Arčonom ter mnenja športnega direktorja ND Gorica Uroša Dovžaka
ND Gorica sporoča, da je klub dogovor o podaljšanju pogodbe sklenil s še enim nadarjenim igralcem prvega moštva. Do leta 2015 se je dosedanjemu moštvu zavezal Sandi Arčon.
Krilni napadalec, ki je v nedeljo dosegel izenačujoči zadetek na srečanju v Celju, je ob podaljšanju sodelovanja povedal: ''Prvotni dogovor med mano in klubom je veljal le še eno sezono, zato smo se skupaj pogovorili in se dogovorili za podaljšanje sodelovanja. Za to potezo sem se odločil, ker je ND Gorica v zadnjem obdobju zelo organiziran klub. Imamo odlično in zelo perspektivno ekipo, ki lahko poseže po vrhunskih dosežkih. Mislim, da je to zame najboljša poteza. Tukaj se lahko še veliko naučim in pokažem.''
Beseda je nato nanesla na možnosti ekipe v Prvi ligi 2011/12: ''Že letos smo sposobni odličnega dosežka. Škoda, ker smo v dosedanjem delu prvenstva izgubili kar precej točk, saj bi bili lahko na prvem mestu. Naš cilj je zmagati vsako tekmo. Tako tudi igramo in verjamem, da se nam bo dobro delo na treningih obrestovalo. Je pa res, da je prvenstvo zelo izenačeno in zanimivo. Vsak lahko premaga vsakega, zato je razplet nemogoče napovedati.''
Novogoričani so po dveh prostih dnevih v začetku tedna trenutno že v polnem procesu vadbe. ''Med premorom je pogosto nekaj sprememb pri treningih. V septembru smo imeli zelo naporen ritem. Zato se zdaj posvečamo regeneraciji, sledijo pa že priprave na dve domači tekmi s Koprom in Domžalami.''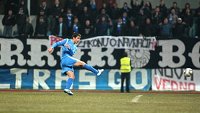 Sandi Arčon v akciji.
Sandi Arčon se je za nd-gorica.com dotaknil tudi prihajajočega sobotnega gostovanja pri Chievu: ''Te tekme se vsi zelo veselimo. Zavedamo se, da proti italijanskemu prvoligašu ne igramo vsak dan. Motivacija bo na vrhuncu. Predvsem se moramo pokazati v dobri ekipni luči. Veliko nam pomeni, da lahko vsake toliko časa zaigramo proti ekipam, ki igrajo v najmočnejših prvenstvih. Vsaka taka izkušnja je še kako dragocena.''
Uroš Dovžak: Strategija z mladimi se nadaljuje
Ob podaljšanju pogodbe s Sandijem Arčonom je za nd-gorica.com nekaj misli izrazil športni direktor ND Gorica Uroš Dovžak.
''Pri ND Gorica nadaljujemo s strategijo uveljavljanja mladih perspektivnih domačih igralcev. Sandi Arčon je eden izmed tistih, na katere ND Gorica računa tudi v prihodnosti. Sandi ima ogromen potencial in se lahko ob nadaljevanju dobrega dela razvije v enega najboljših slovenskih napadalcev. S svojo kvaliteto, talentom, odnosom do dela in kluba tako na igrišču kot tudi izven njega, si je prislužil zaupanje kluba in podaljšanje pogodbe. Zelo smo veseli, da smo se uspeli dogovoriti.''
Kot je znano, se bodo belo-modri v soboto ob 15.00 v Vigasiu pri Veroni pomerili s članom Serie A, ekipo AC Chievo Verona.
ND Gorica – vse pravice pridržane!