Druga zaporedna zmaga!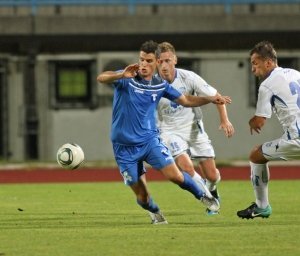 Nova Gorica, 21.03.2012
Vito Plut znova dvakrat v polno. Zadetek tudi za Roka Buzetija.
V drugi domači tekmi v letu 2012 je Hit Gorica premagala Nafto s 3:1. Veliko boljši je bil drugi polčas. Vito Plut je vnovič dosegel dva gola. Enega je dodal Rok Buzeti.

Začetek je minil v precej taktični igri, brez tveganj. Belo-modri so sicer imeli pobudo, a brez konkretnih učinkov. Prvi so v 7. minuti prek Gabriela da Silve nenevarno poizkusili gostje.

Domači so odgovorili v 16. minuti. Sprožil je Goran Galešić. Brez prave akcije so akterji na zelenici ostali vse do vodilnega zadetka Hita Gorice.

V 36. minuti je Vito Plut žogo ukradel gostujočemu igralcu ter s strelom v desni kot premagal vratarja Prekmurcev. To je bil že trinajsti zadetek Pluta v tem prvenstvu.

Kmalu po vodilnem golu domačih je poizkušal Amedej Vetrih, v zadnjih trenutkih prvega dela pa je za Nafto da Silva zatresel okvir vrat.

Hit Gorica je izjemno začela drugi del. Vito Plut je sprejel globinsko podajo in že v prvi minuti belo-modre povedel na 2:0.

Gostje so do znižanja rezultata prišli v 56. minuti. Da Silva je bil najbolj spreten po podaji s kota. Kljub gostujočemu zadetku so bili belo-modri še naprej boljši tekmec. S streloma sta poizkušala Goran Galešić in Andrej Komac.

V zaključnih minutah so nekoliko pritisnili Prekmurci, v eni redkih priložnosti pa so za malo streljali mimo domačih vrat.

Zmagovalca je dokončno odločil Rok Buzeti, ki je odvzel žogo vratarju in zadel za 3:1.

Novogoričani so prikazali zelo solidno igro ter napredek pri zaključku akcij. Po dveh remijih je to druga zaporedna zmaga. Bravo, plavi!

HIT GORICA - NAFTA 3:1 (1:0)

Strelci: Plut 35., 46., Buzeti 90.; Da Silva 56.

Hit Gorica: Brljak, Buzeti, Gregorič, Zarifovič, A. Jogan, Vetrih (86./K. Jogan), Ndiaye, Komac, Galešić (76./Žigon), Plut, Arčon (61./Vicente).

Nafta: Ajlec, Tomažič Šeruga, Levačič, Dolinar, Atanasov, Raduha (70./Kajtazi), Korošec, Da Silva, Sreš, Pavel (49./Vranešević), Zelko.