Odlična igra, visoka zmaga s 4:1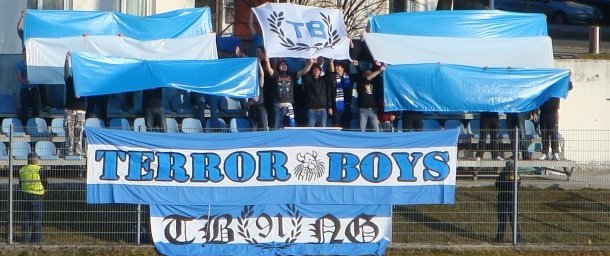 Nova Gorica, 20.10.2012
Dva zadetka Nejca Praprotnika, po en pa Taulanta Kadrije in Welleja Ndiayeja

ND Gorica se po daljšem času veseli nove prvenstvene zmage! Belo-modri so v Športnem parku kar s 4:1 premagali Aluminij. Dva zadetka je dosegel Nejc Praprotnik. Škoda izključitve Welleja Ndiayeja.
Varovanci Mirana Srebrniča so srečanje začeli odločno. Poskusa Amedeja Vetriha in Dejana Žigona še nista bila dovolj natančna. Žigonov drugi strel je končal v okvirju gostujočega gola. Toda na vodstvo domačih ni bili treba dolgo čakati. Po podaji Matije Široka je prvenec v prvoligaški druščini z glavo uspel Nejcu Praprotniku. Tekla je 13. minuta.
Odlična igra domačih se je nekje na sredini prvega dela nekoliko umirila. To so v zadnjem obdobju prvega polčasa izkoristili gostje, ki so v 40. minuti prek Jurice Jeleća prišli do izenačenja. Zares škoda, saj so Novogoričani večji del prvega polčasa prevladovali na igrišču.
Uvodne minute nadaljevanja so prinesle prvo izključitev. Zaradi drugega rumenega kartona je pri Aluminiju pod prho predčasno moral Tomaž Kožar.
Gorica je številčno premoč tokrat hitro izkoristila. V 54. minuti se je po podaji Welleja Ndiayeja za strel z okrog 20 metrov odločil branilec Taulant Kadrija in zadel spodnji kot gostujočih vrat. To je bil krstni gol mladega Novogoričana v Prvi ligi.
Le deset minut zatem je na 3:1 povišal Nejc Praprotnik s svojim drugim dnevnim golom, končnih 4:1 pa je v 75. minuti po podaji s kota postavil Welle Ndiaye.
Prav Senegalec pa si je 10 minut pred koncem prislužil drugi rumeni karton in posledično rdečega. Škoda, saj na naslednji tekmi ne bo mogel pomagati soigralcem.
Zmaga belo-modrim pomeni olajšanje in hkrati spodbudo pred sredino pokalno tekmo. V Kidričevem se bodo pomerili prav z današnjim tekmecem - Aluminijem. Bravo, fantje in srečno v sredo!
GORICA - ALUMINIJ 4:1 (1:1)
Strelci: Praprotnik 13., 64., Kadrija 54., Ndiaye 75.; Jeleč 40.
Rdeča kartona: Ndiaye 80.; Kožar 48.
Gorica: Simčič, Kadrija , Celcer, Vetrih , Širok, Žigon (88./Dornik), Praprotnik, Gregorič, Bremec (71./K. Jogan), Ndiaye, A. Jogan.
Aluminij: Murko, Topolovec, Bingo, Kurež, Drevenšek , Medved (69./Spahić), Kožar (24./Vraničar), Kašnik, Rešek (58./ Pečovnik), Jeleč, Brezovački.