Trener Luigi Apolloni za nd-gorica.com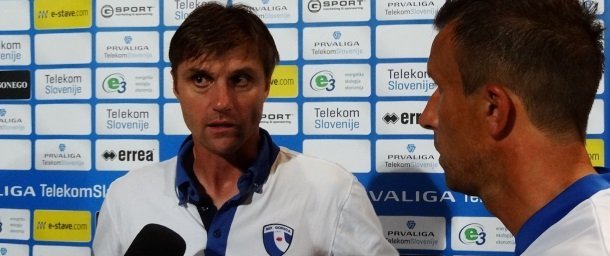 Nova Gorica, 05.09.2013
Vabljeni k branju pogovora s trenerjem ND Gorica
ND Gorica je v prvem delu sezone zbrala 12 točk. Novogoričani so trenutno na sredini lestvice, za drugo pozicijo pa zaostajajo samo za tri točke.

Prvo tekmo po reprezentančnem premoru bodo odigrali proti Celju, ki naslednjo soboto prihaja v Športni park. Svoja razmišljanja je za nd-gorica.com podal trener belo-modrih Luigi Apolloni.

''Nekatere stvari so bile dobre, druge moramo še izboljšati. K sreči sem prišel v okolje, ki je pripravljeno delati in napredovati. Igralci so prizadevni, pripravljeni so na učenje in delo. Smo na začetku projekta, ki se vsakodnevno razvija. Zadovoljen sem z reakcijami ekipe, ki je večinoma prikazala pravi obraz. Seveda so bili tudi nekateri neuspešni trenutki, prostora za napredovanje pa imamo še dovolj,'' je Italijan odgovoril na vprašanje o zadovoljstvu po uvodnih prvenstvenih krogih.

Sedaj so na sporedu treningi s pripravo na naslednje tekme: ''Pozornost posvečamo vsemu, od atletske do taktične priprave. Kot sem dejal, je prostora za napredovanje dovolj in to moramo imeti vedno pred seboj. Smo polno zaposleni. Igralcem premor dobro dene. Nekateri člani, kot so Lapdula, Aguilar, Jogan, Ndiaye, imajo manjše težave, ki pa jih uspešno rešujejo.''

Apolloni o slovenskem prvenstvu meni: ''Mnogi mislijo, da je to lahko tekmovanje, ampak temu še zdaleč ni tako. Ekipe so zelo organizirane, napadalno usmerjene. Videl sem kar precej zelo dobrih in obetavnih nogometašev. Med ekipami ni velikih razlik. Maribor, Olimpija, Rudar, Domžale in tudi ostale so zelo dobra moštva. Potrebno je biti stoodstotno pripravljen in koncentriran na vsako tekmo.''

Novogoriški trener je na vprašanja o ciljih moštva odgovoril: ''Moramo se boriti, teči, pokazati srce in igrati z glavo. Kar se rezultatskih ciljev tiče znova ponavljam, da si moramo najprej zagotoviti obstanek. Če se pokaže priložnost za preboj na visoka mesta, jo bomo gotovo zagrabili z obema rokama. Kot sem že večkrat ponovil, je zame pomembno, da vsi v moštvu pokažejo pripadnost temu klubu in istemu cilju – napredku ND Gorica.''

Ob koncu pogovora je nekdanji italijanski reprezentant spregovoril tudi vtisih o naši državi. ''Prišel sem v okolje, ki me je zelo lepo sprejelo. Vsem v klubu se zahvaljujem za pomoč in podporo. Zame je to neka nova izkušnja, zelo dragocena. Spoznal sem, da je to bogato okolje, tako kulturno kot zgodovinsko. Slovenija ima veliko naravnih lepot in veliko potenciala.''

ND Gorica - vse pravice pridržane!