Luigi Apolloni: ''V soboto nas čaka težak nasprotnik, a gremo na zmago!''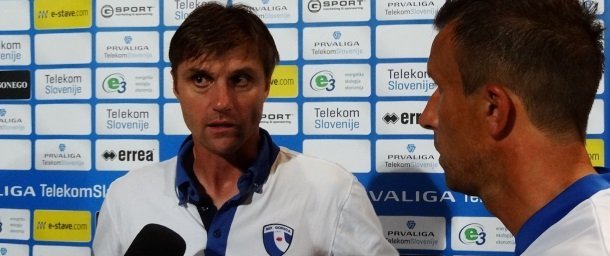 Nova Gorica, 24.10.2013
Trener ND Gorica posebej za nd-gorica.com
Novogoriške nogometaše v soboto ob 18. uri v Športnem parku čaka nova pomembna preizkušnja. Pred vrati je primorski derbi proti Luki Kopru. Pred sobotno tekmo je za nd-gorica.com spregovoril trener Luigi Apolloni.

Sprva se je ozrl na sredino pokalno gostovanje v Kidričevem: ''Zadovoljen sem samo z rezultatom. Zmaga z 1:0 je pomembna. Ob tem me je s svojimi obrambami razveselil tudi vratar Vasja Simčič, ki nas je dvakrat rešil zadetka. Vse ostalo je bilo slabo. Med polčasoma sem bil zelo razburjen in igralcem povedal, da nisem zadovoljen z njihovim pristopom. V tekmo nismo šli dovolj odločno. To se nam je maščevalo, saj nismo razvili prave igre. V drugem polčasu je bilo za malenkost boljše, a še vedno veliko pod našim nivojem.''

V zvezi s tem je dodal: ''Vedno znova ponavljam, da morajo biti v vsakem trenutku pripravljeni vsi igralci na stoodstotni boj. Le tako bomo dosegli cilje, ki smo si jih zadali. Nekateri igrajo več, drugi manj. A vsi so del ekipe in lahko v vsakem trenutku vskočijo. Tega se morajo zavedati, zato od vseh skupaj pričakujem bistveno boljši pristop. Moramo biti pazljivi, kajti če tega ne bomo popravili, ne bomo šli naprej. Vemo pa, da je pokalno tekmovanje najkrajša pot do evropskih pokalov.''

Luigi Apolloni pričakuje težak sobotni derbi: ''Čaka nas kakovosten tekmec. Koper se je doslej izkazal. Igrajo zelo čvrsto, znajo izkoristiti vsako napako nasprotnika. Imajo odlične nogometaše Galešića, Lotriča, Čovila in še nekatere. Mi bomo vsekakor storili vse, da tekmo dobimo. V prvem dvoboju letos so nas premagali. To bo še dodaten motiv. Še enkrat pa ponavljam, da bo veliko odvisno od našega pristopa. Pričakujem, da bo povsem drugačen, kot na tekmi z Aluminijem.''

Strokovno vodstvo ima za sobotno preizkušnjo na voljo vse nogometaše. Tisti, ki niso bili v kadru na sredini tekmi, so v četrtek opravili močnejši trening. Zaradi poškodb v moštvu manjkata Čeh Nicolas Šumsky ter Italijan Fabio Lebran.