ND Gorica v Kranju spustila petardo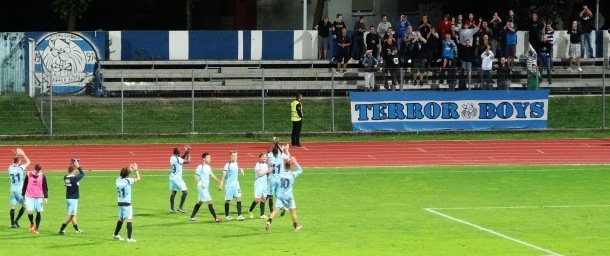 Nova Gorica, 01.12.2013
Visoka zmaga - po dva zadetka Code in Bazzoffie, enega je dosegel Misuraca

ND Gorica je v Kranju upravičila vlogo favorita ter z najvišjo zmago v letošnji sezoni premagala Triglav s 5:1.

Belo-modri so povedli že v začetku tekme, ko je Massimo Coda izkoristil napako domače obrambe. Po uvodnem šoku so nekoliko boljše zaigrali nogometaši Triglava. Pripravili so si tri poskuse z razdalje, Novogoriška obramba pa je vse nevarnosti razčistila.

Pri gostih se je v 27. minuti za strel odločil Gianluca Lapadula, a je žoga zletela mimo gola. Do želenega cilja nista prišla niti naslednja poskusa strelca Massima Code ter ponoven udarec Lapadule.

V 42. minuti je Gianvito Misuraca podal pred gol, kjer je Massimo Coda zadel drugič na tekmi. To je bil njegov deseti prvenstveni zadetek.

Drugi polčas se je pričel s poskusom Saše Aleksandra Živca pri Gorici ter streloma Palibrka in Stjepanovića za Triglav. Kmalu pa je Gorica vodila s 3:0. Daniele Bazzoffia je v 55. minuti zamenjal Saša A. Živca, že v naslednjem napadu pa je po odbiti žogi dosegel zadetek.

Kmalu zatem je še eno neodločnost domače branilske vrste izkoristil Gianvito Misuraca za 4:0, Gianluca Lapadula pa bi lahko iz lepe priložnosti dosegel svoje prvi zadetek, a njegov lob-udarec ni bil natančen.

Domači so do znižanja zaostanka prišli do strelu s kota, nakar je končni rezultat v 78. minuti postavil Bazzoffia. Podal mu je Tunizijec Nabil Taider, ki je tokrat drugič oblekel dres Gorice v Prvi ligi.

To je deveta zmaga Gorice letos. Zadnja tekma jo čaka v soboto v Novem mestu. Massimo Coda je postal prvi strelec državnega prvenstva!