Beseda predsednika ND Gorica Harija Arčona
Nova Gorica, 30.05.2016
Vabljeni k branju pogovora s prvim možem kluba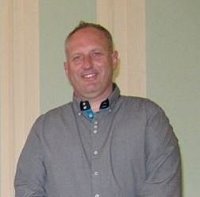 Po zaključeni tekmovalni sezoni 2015/16 in po opravljenem prvem letu mandata je za nd-gorica.com spregovoril predsednik ND Gorica Hari Arčon.
Pogovor je začel tako: ''Če se ozrem nazaj, je bila naša prva naloga lani v tem času uspešno opraviti kvalifikacije za obstanek. To nam je uspelo. Naše misli so bile nato usmerjene k preživetju do zimskega prestopnega roka. Vedeli smo, da bomo morali tedaj realizirati prodajo nogometaša Blessinga Elekeja. To smo izpeljali. Izkupiček smo krvavo potrebovali za nujno stabilizacijo kluba. Ko pogledamo nazaj lahko rečem, da smo šli skozi zelo težavno obdobje. Tega se lahko v polnosti zavedamo samo tisti, ki smo bili ves čas zraven. Navzven sicer zgleda, da nam je uspelo tekoče izpeljati, toda bilo je veliko truda in neprespanih noči, da smo prišli v položaj, v kakršnem smo danes. S tem smo vsem povrnili vero v ND Gorica.''
Predsednik je na vprašanje o konkretnih številkah odgovoril tako: ''Ko govorim o dolgu, govorim o sedemmestni številki, se pravi več kot milijonu evrov! Po prevzemu mandata smo se srečali tudi s težavo dokončnega propada Parme. Ljudje, ki so bili povezani z obema kluboma, so se tako obrnili na ND Gorico. Vedeli so, da iz Parme ne bodo dobili ničesar. Zato se je začel pritisk na nas, da jim nekaj izplačamo.''
Kaj pa danes, po letu dni? ''Danes smo v bistveno boljši situaciji. Dolg je skoraj poplačan. Z vsemi upniki smo dosegli sporazume. Konec junija nas čaka prvi obrok poplačila po sporazumih. Situacija je stabilna in obvladljiva. Za dokončno sanacijo kluba pa bomo po oceni potrebovali še nekje do tri leta. Pretekla situacija naj bo vsem bodočim generacijam veliki poduk za naprej. Gorice, ki bo životarila, si nihče ne želi!''
K temu je dodal: ''Tudi okolje mora razumeti, da bi stečaj kluba predstavljal socialno bombo. Od ND Gorica so odvisni tudi trenerji in druge osebe. Tudi tristo otrok ne bi imelo kam iti. ND Gorica je edini prvoligaš v širši regiji, ki ima tako širok pogon. Tukaj ne bi želel zapostavljati drugih športov, a številke govorijo same zase. Okolje, gospodarstvo tega še ne prepozna. Upamo, da bo čimprej. Imamo zagotovljenih nekje 75% proračuna za naslednjo sezono. Tudi vedeti morate, da brez lastnega vložka ne bo dodane vrednosti – novih kakovostnih nogometašev, ki bi jih lahko dobro unovčili. Potreben je vložek v trenerje, opremo, kakovost vadbe, izobraževanje. Vse to stane.''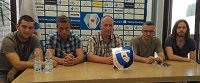 Arčon je nato povedal nekaj misli o razvoju kluba: ''Kar se tekmovalnega vidika tiče, smo izjemno zadovoljni. Nastop v Evropi je v prvi vrsti nagrada za igralce in trenerje. Tudi klub bo nekaj iz tega dobil, a so tudi stroški, ki pa so odvisni od naklonjenosti žreba. Vsekakor pa to ne bo spremenilo naše usmeritve – želimo biti klub, ki se bori, ki ustvarja, da imamo fante, ki za nas igrajo s srcem in dušo. Vsi moramo pokazati pripadnost klubu in okolju. Ne želimo biti ''agencijski klub''. Želimo biti klub z identiteto.''
Ob koncu pogovora se je dotaknil še kadrovske križanke ter še ene velike težave – publike: ''Kar se tiče kadrovske sestave, bistvenih sprememb ne pričakujemo. Z nekaterimi nogometaši, mislim, da so štirje, se še pogovarjamo. Pogovore smo začeli tudi z enim potencialnim novincem, ki prihaja iz našega okolja. Poudaril bi tudi težavo s publiko. Vse pohvale gredo Terror boysem, ki so nas spodbujali v dobrem in slabem. Po drugi strani pa imamo povprečen obisk še naprej zelo nizek. Toda marsikdaj se počutimo nelagodno, ker se že v peti minuti pričnejo nekateri iz tribune zgražati nad kakšno napako. Preveč je negativnih besed, ki so zelo neokusne. To ne sodi na naš stadion! Fante je treba podpreti, ne pa jih nenehno kritizirati. Razumem, da odigrajo kakšno tekmo slabše, toda potrebno je vedeti, da so mladi in se marsikaj morajo še naučiti. Naša ekipa igra v gosteh boljše, ker se doma mladi fantje ustrašijo vzklikov s tribune. To zanje predstavlja nepotreben pritisk! Tu nas čaka še veliko dela. Kulturno spremljanje tekme je eden od pogojev za razvoj kluba. Če bomo to dosegli, bo na tekmah več družin, mladih parov, in s tem bo tekma postala prijeten družabni dogodek, kot v večjem delu Evrope.''
ND Gorica - vse pravice pridržane!