Predstavitev Nogometne šole ND Gorica: spregovorila sta predsednik Hari Arčon in vodja šole Miki Kondič
Nova Gorica, 17.03.2016
Vabljeni k branju izjav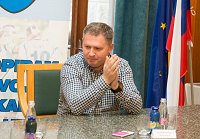 V četrtkovem popoldnevu je v prostorih Mestne občine Nova Gorica potekala predstavitev Nogometne šole ND Gorica. Zbrane sta nagovorila predsednik ND Gorica Hari Arčon ter vodja šole Miki Kondič.
Miki Kondič je dejal: ''ND Gorica velja za klub, ki veliko stavi na doma vzgojene nogometaše. Drugi klubi to počnejo nekoliko drugače. Vemo, da se vrhunskega nogometa ne da igrati zgolj z domačimi nogometaši. Poglejte klube v največjih ligah. V zadnjih dveh mesecih, odkar sem tu, smo veliko naredili. Okrepili smo trenersko ekipo. Z vsemi sem zelo zadovoljen. Pri našem delovanju je pomembno, da se obrnemo na širšo regijo. Naš osnovni cilj je, da ustvarimo v prvi vrsti človeka z osebnostjo ter mu poskušamo priučiti zmagovalno mentaliteto. Trudimo se delati, kar je prav, ne samo kar prinaša rezultate. Pomemben je posameznik, njegova kreativnost, osebnostna rast. Cilj je, da vsakega mladega igralca pripeljemo na nivo, da bo nekoč potencialni kapetan članskega moštva. V organizaciji napredujemo, imamo pa še prostor za izboljšave.''
Predsednik ND Gorica Hari Arčon pa je izpostavil: ''Klub je po dveh letih končno v dobri kondiciji. Vizija je, da v članskemu moštvu zagotovimo prostor za igralce, ki so šli skozi selekcije nogometne šole. Članska ekipa mora biti vzor mlajšim. Povečati moramo pripadnost klubu. Delujemo na več projektih, članska ekipa, nogometna šola, kjer smo pripeljali novega vodjo. Tudi stadion moramo posodobiti, da bodo na tekme z veseljem prišle družine in otroci. Imamo svoje cilje, svojo pot. ND Gorica je samo ena, to je klub vseh nas, mesta, regije.''
K temu je dodal: ''Ob tem je pomembno, da mladi trenirajo in se hkrati izobražujejo. Pomenijo dodano vrednost našemu okolju. Poplačali smo skoraj vse dolgove, sedaj pa je na nas, da pokažemo, koliko bomo k razvoju kluba dodali. Živeti moramo s podporo okolja – sponzorjev, navijačev, vseh obiskovalcev tekem. Še enkrat povem, da je pripadnost zelo pomembna. To ni projekt 50 točk v Prvi ligi ali pa preboj v evropske pokale. Gre za družbeno odgovoren projekt. Vsi skupaj moramo pokazati to pripadnost. Če jo bomo, bo klub živel in bo klub uspešen, naš ponos.''
ND Gorica – vse pravice pridržane!