Pričakovanja in informacije pred Panioniosom
Nova Gorica, 11.07.2017
V prostorih ND Gorica v Športnem parku v Novi Gorici je v ponedeljek ob 12. uri potekala tiskovna konferenca. Govora je bilo o zadnjih uspehih in dogodkih v klubu. Posebej je bil izpostavljen preboj v 2. krog kvalifikacij za UEFA Evropsko ligo ter četrtkova tekma v Atenah proti ekipi Panioniosa.
Pred vami so ključni povzetki izjav vseh akterjev na druženju z novinarji. Več pa na video posnetku, ki ga lahko dobite na Uradni Facebook strani ND Gorica. Vabljeni k ogledu.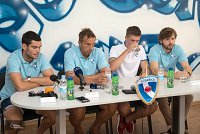 Trener Miran Srebrnič je dejal: "Panionios je zelo kvalitetno moštvo, ki ima dobre posameznike. Tehnično imajo zelo močne igralce. Moramo pokazati spoštovanje ter poskušati pripraviti presenečenje. Cilj je napredovanje, s tem spoznanjem moramo iti v tekmo. Ekipa Panioniosa je še ena stopnička več, tako da bo to za nas se ena lepa izkušnja. Pomembno je, da ne podležemo nekemu strahu, ker za to ni nobene potrebe. Vsekakor bomo poskusili postaviti izid, da bo v Novi Gorici zanimivo in še en praznik."
Direktor ND Gorica Sebastjan Komel je izpostavil: "Lahko rečem, da smo prvi del zgodbe uspešno opravili. Tudi gostovanje v Grčiji bomo izpeljali brez težav. Pravilno je, da so stvari na visokem nivoju, ker uspehom naših igralcev in trenerjev ni tako enostavno slediti. Zato bomo vse strune napeli tudi mi v upravi, da se jim bomo približali. V goriški zgodbi gre za ''mega'' korake, a konec koncev je to v redu in gre za pozitivno zgodbo."
Kapetan Alen Jogan pa je pričakovanja strnil tako: "Zagotovo pričakujemo eno težko tekmo. Kot je že trener dejal, gre za odličnega nasprotnika, ki ima kvaliteto. Bodo trenutki, ko bomo trpeli. Ampak če se bomo dobro obranili, imamo tudi mi kar nekaj kvalitete v napadu in lahko tudi presenetimo. "
Ekipa ND Gorice se v Atene odpravlja v sredo ob 8.30 uri zjutraj s čarterskim poletom iz Ronk. Moštvo se vrača takoj po tekmi. V Novo Gorico pride v petkovih zgodnjih jutranjih urah.
Uradni trening je v sredo ob 21. uri po našem času.
Trening po prihodu domov je v petek ob 18.30 uri, v soboto pa ob 9.30.
V nedeljo je tekma v Krškem ob 18. uri.