V pričakovanju četrte zaporedne zmage v soboto ob 20.15 vsi v Športni park!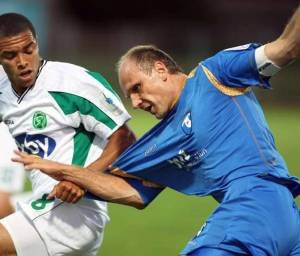 Nova Gorica, 19.03.2010
Včeraj je v Hit Hotelu Sabotin potekala redna novinarska konferenca ND Gorica, na kateri je Miran Srebrnič v svetovni splet poslal novo spletno stran kluba.
Včeraj je v Hit Hotelu Sabotin potekala redna novinarska konferenca ND Gorica, na kateri je Miran Srebrnič v svetovni splet poslal novo spletno stran kluba.
Trener David Peršič je podal oceno nastopa v Domžalah ter pričakovanja pred sobotno tekmo z Rudarjem. Svoj pogled je javnosti predstavil tudi mladi obetavni zvezni igralec Miha Mevlja. Poleg omenjenih so bili na druženju s predstavniki medijev prisotni še Miran Srebrnič, pomočnik trenerja, ter člana Izvršnega odbora ND Gorica Tomaž Slokar in Uroš Dovžak.
Slovesni del tiskovne konference je pripadel Miranu Srebrniču, ki je kot legenda Goriškega nogometa v svetovni splet simbolično poslal novo spletno stran nd-gorica.com, ki jo pravkar prebirate.
V soboto ob 20.15 doma z Rudarjem
Trener ekipe David Peršič se je najprej ozrl na gostovanje v Domžalah: ''Cilj smo na prvi četrtfinalni tekmi dosegli. Začeli smo odlično in povedli z evrogolom Enesa Demirovića. Želeli smo si doseči zadetek v gosteh, kar smo tudi uspeli. Sicer so imeli nato domači nekaj več priložnosti, toda iz dveh lepih akcij bi lahko tudi sami dosegli še kakšen gol. Kljub temu smo zadovoljni. Pred sredino tekmo doma imamo odlično izhodišče. Toda obranili ga bomo le, če bomo zaigrali tako kot znamo, agresivno. Kakršnekoli kalkulacije na remi brez golov tukaj ne pridejo v poštev. Če bomo igrali na remi, se bojim, da se ne bo dobro končalo.''
Trener se je nato dotaknil še domače tekme z Rudarjem: ''Vemo, da je bil Rudar za Gorico vedno neugodna ekipa. So v manjši krizi, vendar nas to ne sme zavesti. Če bomo zaigrali tako, kot na prejšnjih tekmah, sem prepričan da bomo uspešni. Ekipa deluje dobro, z zmago bi Rudar tudi prehiteli. Bistvenih sprememb v moštvu ne bo. Ob tej priložnosti bi rad povabil vse navijače naj se nam pridružijo v čimvečjem številu. Potrebujemo njihovo pomoč, mi pa bomo storili vse, da se jim za podporo zahvalimo z zmago.''
Podobnega mnenja je bil tudi član slovenske reprezentance do 20. leta in vse bolj uveljavljeni mladi igralec Hita Gorice Miha Mevlja. ''Pričakujem zahtevno tekmo. Rudar je čvrsto moštvo, z dobrimi posamezniki. Toda veliko bolj nas zanima naša igra. Za zdaj delujemo dobro, iz tekme v tekmo napredujemo. Tudi sam se poizkušam čimbolj vključiti v to ekipo. Res je, da nas igra precej mladih, toda brez starejših ne bi zmogli. Oni nam dajejo nasvete, ki so še kako pomembni. Upam na novo zmago, s katero bi se še bolj utrdili na sredini lestvice.''
Stanje poškodovanih igralcev
Pri belo-modrih se že dalj časa soočajo z nekaterimi poškodovanimi nogometaši. Etien Velikonja končuje terapije pri Dušanu Mesesnelu, v prihodnjem tednu pa bo začel z nogometnimi treningi. Branilec Miha Gregorič je bil pravkar na magnetni resonanci, diagnoza poškodbe pa še ni povsem znana, ker ima najverjetneje težave s peto.
Sebastjan Komel po poškodbi stegenske mišice opravlja terapije, prav tako kot Gorazd Gorinšek, ki pa ima težave z aduktorjem. Amedej Vetrih bo po težavah s kolenom obiskal magnetno resonanco, medtem ko je Matej Mlakar še vedno poškodovan.
V soboto vsi na tekmo
Igralce Hita Gorice tako v soboto ob 20.15 tudi pred kamerami RTV SLO čaka četrta prvenstvena tekma letos. Rezultati so sedaj sijajni. Tri tekme in tri zmage.
Naj ob tem dodamo, da bodo Novogoričani tudi naslednji dve tekmi igrali doma. V sredo jih čaka povratni četrtfinalni dvoboj z Domžalami, prihodnjo soboto pa v Športni park prihaja Maribor.
Nogometno društvo Gorica vabi vse prijatelje kluba in športne poznavalce naj si tekmo v soboto ob 20.15 ogledajo v živo!