Jasmin Kurtić novi igralec Gorice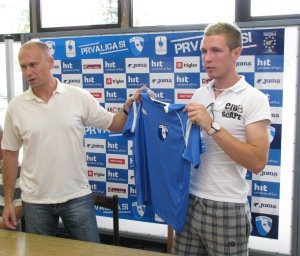 Nova Gorica, 03.08.2010
Dino Martinovič na posojo v Belo krajino


Novi član Nogometnega društva Gorice je Jasmin Kurtić. Mladi 21-letni ofenzivni nogometaš prihaja iz Bele krajine. Je član mlade slovenske reprezentance do 21. leta, pri Hitu Gorici pa bo nosil številko 14.

ND Gorica je v Belo krajino posodila napadalca Dina Martinoviča.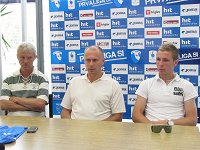 Z leve: trener David Peršič, športni direktor Uroš Dovžak in novi igralec Jasmin Kurtić
Novi igralec Jasmin Kurtič je ob predstavitvi povedal: ''Zelo sem vesel prihoda v ta klub. Upam, da mu bom pomagal k čim boljšim dosežkom. Veselim se nastopov v prvi ligi in si želim, da bi se čimprej vrnil v reprezentanco. Ob tem bi se za vso podporo im pomoč zahvalil NK Bela krajina, pozdravil pa bi tudi svoje dekle Amiro Ibričić, ki mi je vselej stala ob strani. ''
Športni direktor Uroš Dovžak je novo okrepitev opisal takole: ''Kot smo že večkrat povedali, smo odprti za perspektivne igralce iz cele Slovenije. Jasmin je eden od teh. Sklenili smo petletno pogodbo. Je reprezentant, pogajanja so bila dolgotrajna, ves spomladanski del. Veseli smo, da se je odločil za nas. Verjamemo, da bo pokazal ves svoj talent. Za naš klub pomeni dolgoročno rešitev.''
Dovžak se je tudi zanikal namigovanja, da naj bi bil Etien Velikonja že v kratkem član Maribora. ''Etien ima veljavno pogodbo z ND Gorica,'' je bil kratek športni direktor.

Kot že napovedano bodo belo-modri v sredo 11. avgusta odigrali prijateljsko tekmo z italijanskim prvoligašem Cagliarijem. Srečanje se bo v Športnem parku pričelo ob 18.30. ''Potrebujemo mednarodne izkušnje, ki jih prinesejo lahko le tekme z močnimi ekipami. Italijani pridejo v torek, v sredo zjutraj imajo trening, v četrtek se vračajo domov. To bo zelo dobrodošla tekma za naše mlado moštvo. S to prakso bomo nadaljevali,'' je dogovor pojasnil Dovžak.
foto: ND Gorica
ND Gorica - vse pravice pridržane