Mariborsko zmago želijo potrditi s celjskim skalpom
Nova Gorica, 08.03.2011
Dovžak, Peršič, Vicente in Galešić so spregovorili na druženju z novinarji
Na torkovi novinarski konferenci ND Gorica so se zadnje velike zmage nad Mariborom spomnili športni direktor Uroš Dovžak, trener David Perišč ter igralca William Franklin Vicente ter Goran Galešić. Nekaj besed so namenili tudi prihajajoči tekmi s CM Celjem (Športni park, sobota ob 18. uri) in trenutnemu stanju v moštvu.
Športni direktor ND Gorica Uroš Dovžak je svoje misli strnil s sledečimi besedami: ''Na prvi tekmi z Olimpijo je prišlo do psihološke blokade. S fanti so se o tem pogovorili. V Mariboru sta se srečali dve najmlajši ekipi v prvenstvu, ki gojita podobno strategijo. Na tekmi smo bili boljši od Maribora, ki bo letos zasluženo postal državni prvak. Pristop igralcev je bil pravi, dali so vse od sebe. Le s takšnim načinom dela se nam bodo povrnila vlaganja na treningih. Ta zmaga daje igralcem močan znak, da zmorejo igrati dobro in dosegati vrhunske rezultate.''
Dovžak se je navezal tudi na sobotno domače srečanje 22. kroga: ''Točke iz Maribora moramo oplemenititi na tekmi s Celjani. Zagotovo bo zelo težka, saj so tudi oni uspešno začeli spomladanski del prvenstva. Le s pravilnim pristopom, v smislu, da fantje dajo še več kot zmorejo, bomo uspešni. Ta tekma je neka nadgradnja mariborske zmage, ki bo s tremi sobotnimi točkami dobila še dodatno težo.''
Trener David Peršič je bil podobnega mnenja: ''V Mariboru smo odigrali zelo dobro srečanje. Naš tihi cilj je bil, da tekmo dobimo, kar nam je tudi uspelo. V prvem polčasu smo delovali učinkovito. Poleg dveh doseženih golov smo imeli še nekaj priložnosti. Vedeli smo, da bodo domači v nadaljevanju želeli na vsak način izenačiti, mi pa smo dobro branili naš rezultat. Vratar Vasja Simčič je imel res zelo dober dan. Ta zmaga je velika spodbuda za naprej. Daje nam samozavest, ki je za to mlado ekipo še kako pomembna. Seveda pričakujem na tekmi s Celjani potrditev sobotne zmage. Opozarjam, da se bodo padci še kdaj pripetili, saj se igralci z vsako tekmo učijo. Pa vendar bomo vse usmerili v to, da čimprej pridobimo stabilnost.''
Dalibor Stojanovič, W. Franklin Vicente, Uroš Dovžak
Krstnega zadetka za Hit Gorico se je v Ljudskem vrtu veselil Brazilec William Franklin Vicente, ki je s pomočjo prevajalca iz portugalščine – njegovega soigralca Daliborja Stevanoviča povedal: ''Zelo sem vesel prvega zadetka. Še več mi pomeni, ker sem s tem pomagal ekipi do zmage. Moj gol je posledica dobre ekipne igre. Za zdaj treniramo kakovostno, tako da upam, da bomo to prenesli tudi na naslednje tekme. Želim si zmag in napredovanja.''
Tudi Goran Galešić je dal pomemben prispevek k zadnji zmagi: ''Pridobili smo samozavest, ki jo moramo z novimi zmagami še povečati. Pristop je bil pravi. Zavedali smo se, da moramo v tekmo iti bolj odgovorno, kar smo tudi storili. Na začetku smo imeli težave s nekoliko poledenelim igriščem, a smo se v tekmi vendarle znašli.''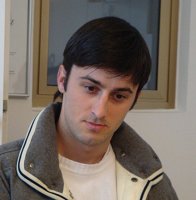 Goran Galešić
Tekmo s Celjani v soboto v Športnem parku bo zaradi rumenih kartonov izpustil branilec Aris Zarifović. Prav danes je zbolel zvezni igralec Danjel Rakušček.
Enes Demirović po operaciji trenira po posebnem programu. Amedej Vetrih vadi po prilagojenem programu s trenerjem Mitjo Pirihom, medtem ko se bo Luka Volarič kmalu začel trenirati z žogo. Veseli tudi, da se je ekipnim treningom priključil branilec Boris Mijatovič. Napadalec Welle Ndiaye pa bo za tekme pripravljen v aprilu.
ND Gorica – vse pravice pridržane!