Vito Plut: 'Upam, da sobotni zadetek pomeni začetek strelske serije!'
Nova Gorica, 14.03.2011
V sredo ob 18. uri nogometaše Hita Gorice čaka že četrta prvenstvena tekma to pomlad. Po izjemno uspešnem gostovanju v Mariboru, ko so belo-modri osvojili vse tri točke, tokrat potujejo na prenovljen koprski stadion ŠRC Bonifika. Tam se bodo srečali z domačo Luko Koprom, aktualnimi državnimi prvaki in trenutno tretjim moštvom Prve lige 2010/11.
Pred primorskim derbijem je posebej za nd-gorica.com spregovoril novi napadalec belo-modrih Vito Plut. Belokranjec je v Prvi ligi nase najprej opozoril prav v dresu Koprčanov. Tokrat se po dveh letih na Bonifiko vrača v belo-modrem dresu.
''Zaigral bom proti svoji nekdanji ekipi. To bo zame še dodaten motiv, da se dokažem. V Novi Gorici sem zelo zadovoljen. Naša ekipa ima pred seboj lepo bodočnost. Tudi v Kopru bomo zaigrali na zmago, saj je Gorica drugi najbolj uspešen klub v Sloveniji. Res je, da se v igri še nekoliko lovimo. Tudi na zadnji tekmi smo v prvem polčasu igrali pod našimi zmožnostmi. Med odmorom smo se zazrli vase in v drugem delu nastopili boljše. Sam menim, da smo iz tedna v teden bolj uigrani. S tem pa pridobivamo tudi na stabilnosti,'' razmišlja 22 letni Belokranjec.
V soboto je na tekmi s CM Celjem dosegel krstni zadetek v dresu Hita Gorice. ''Zadetka sem zelo vesel. Res upam, da je to začetek moje strelske serije. Kljub doseženemu golu pa naj poudarim, da je v prvi vrsti pomembno, da ekipa zmaguje. Če ji tudi sam pomagam z zadetki, sem toliko bolj vesel. Strelske uspešnosti se nadejam tudi v Kopru,'' zaključuje Vito Plut.
Na primorskem derbiju v vrstah Hita Gorice zagotovo ne bo mladega krilnega napadalca Sandija Arčona, ki je bil na zadnji tekmi izključen. Po prestani kazni zaradi rumenih kartonov pa se v moštvo vrača osrednji branilec Aris Zarifović.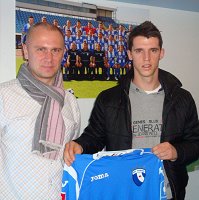 Športni direktor ND Gorica Uroš Dovžak in Vito Plut ob sklenitvi sodelovanja januarja letos.
ND Gorica - vse pravice pridržane!