Pred vrati prvi domači nastop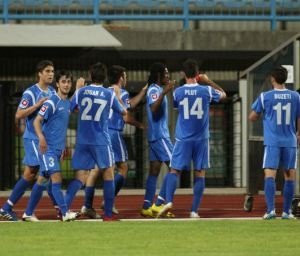 Nova Gorica, 22.07.2011
Preberite pričakovanja Roka Buzetija, Nebojše Kovačeviča, Mirana Srebrniča in Florjana Debenjaka.
Hit Gorica v soboto od 20. uri v Športnem parku v prvi domači tekmi nove sezone gosti ekipo Mure.
Prekmurci so se med najboljše vrnili po sedmih letih, v uvodnem krogu pa so doma z 1:0 ugnali Koper.
Novogoričani lahko računajo na vse nogometaše, z izjemo kaznovanega Nejca Mevlje ter poškodovanega Darka Brljaka. Športni direktor Uroš Dovžak je na druženju z novinarji povedal: ''Ekipa je dobro pripravljena. Vabimo gledalce, da si ogledajo tekmo in podprejo naše moštvo. Na voljo bodo vsi, razen Nejca Mevlje, ki zaradi kartonov počiva, in vratarja Darka Brljaka, ki je poškodovan.''
Branilec Rok Buzeti pred dvobojem razmišlja takole: ''Po tekmi, kot je bila v Mariboru, ostane vedno grenak priokus, za kar smo si krivi tudi sami, saj nam je proti koncu tekme padla koncentracija. Potem je prišla še enajstmetrovka, ki jo je videl le sodnik. Gremo naprej, doma pričakujemo tri točke. Menim, da smo v pripravah dobro delali, da smo dobro pripravljeni in se nikogar ne bojimo. Niti Mure, ki je sicer mlada, perspektivna ekipa in hit naše lige, a mi imamo vendarle izkušenejšo ekipo in boljše posameznike.''
Njegove misli je dopolnil povratnik v ekipo belo-modrih Nebojša Kovačevič: ''Vse bo pozabljeno, če bomo proti Muri zmagali. Zaigrati moramo kot znamo in imeti v sebi zmagovalno mentaliteto.''
Trener Miran Srebrnič je zadnje dogodke komentiral takole: ''Zame je tekma v Mariboru pozabljena. Odigrali smo dobro tekmo, taktično dobro, tudi pristop je bil pravi in prav takšnega pričakujem tudi tokrat. Veseli me pozitivna atmosfera, ki veje v tem, po mojem mnenju zdravem moštvu, ki diha ekipno. Gostje najavljajo zmago, mi pa moramo vse svoje misli usmeriti v igranje na domačem terenu. Delovati moramo močno, saj v zadnjih sezonah doma nismo delovali prepričljivo. Res si močno želim, da doma pokažemo boljši nogomet, saj so igralci tega sposobni in v to morajo verjeti. Smo v formi, ekipa je kvalitetnejša, zato se ne bojim, ker vem, da bomo zmagali, če bomo »pravi«. A vendarle gostov ne gre podcenjevati. Vsaka tekma v tem prvenstvu bo težka, a bodimo vsi skupaj, tudi tribuna, potrpežljivi.''
Prvi Srebrničev sodelavec Florjan Debenjak je kratko dodal: ''Če so gostje tako samozavestni, da prihajajo v Novo Gorico po tri točke, nam mora biti to le dodaten izziv. Jaz verjamem v končni uspeh.''
ND Gorica vabi vse športne navdušence na ogled prve domače tekme v novi sezoni! Pridite, podprite belo-modre fante!
ND Gorica – vse pravice pridržane!