Goran Galešić: ''Vedno igramo enako. Na zmago!''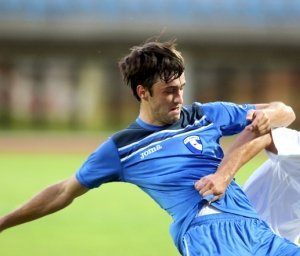 Nova Gorica, 18.08.2011
Pogovor z enim najboljših igralcev belo-modrih.
Pet tekem v Prvi ligi 2011/12. Najprej poraz, remi in poraz, nato dve zmagi. Predvsem zadnja v Kopru je potrdila, da je pot, po kateri že nekaj časa hodijo v Novi Gorici, prava. Eden najbolj vidnih članov udarne enajsterice je zagotovo Goran Galešić, strelec dveh letošnjih zadetkov, donedavni član mlade reprezentance Bosne in Hercegovine, ki se lahko ob nadaljevanju takšnih iger kmalu nadeja vpoklica v člansko reprezentančno vrsto svoje domovine.
Goran je po tekmi v Kopru in pred srečanjem v Domžalah nekaj svojih misli strnil za nd-gorica.com: ''Zadnja zmaga v Kopru je bila povsem zaslužena. Igrali smo dobro in svoje priložnosti izkoristili. Tudi na prvih treh tekmah smo prikazali dober nogomet, a zaradi različnih okoliščin osvojili zgolj eno točko. Tisti rezultati niso pravi pokazatelj vrednosti naše ekipe. Seveda smo si želeli zmag, saj smo vedeli, da odlično treniramo. Nismo se pustili motiti in na zadnjih dveh tekmah se nam je trud poplačal. Verjamem, da bo tako tudi naprej.''
Novogoričane v soboto čaka še eno srečanje z moštvom, ki je preteklo sezono zaključilo na visokih mestih. Pred dvobojem v Domžalah Galešić pričakuje: ''Samo to, da zopet pokažemo našo igro. Na vsaki tekmi igramo enako. Želimo si zmage in za to delamo. Mislim, da imamo veliko možnosti. Vsi komaj čakamo, da se iz tekme v tekme dokazujemo. Res je, da so Domžale druge na lestvici, da imajo štiri točke več od nas, toda na to se ne oziramo. Tako kot v Kopru, bomo poizkušali zaigrati tudi čim bolj pošteno, v duhu fair playa,'' se je igralec iz Banja Luke dotaknil tudi dejstva, da so belo-modri v Kopru dosegli štiri zadetke ob tem pa prejeli le en rumeni karton.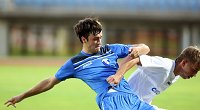 Goran Galešić v dvoboju.
Nekdanji mladi reprezentant Bosne in Hercegovine je dodal še pogled na svoje igre. ''Za zdaj mi gre dobro. Upam, da bom ta nivo forme zadržal. Zavedam se, da mi včasih zmanjka na kontinuiteti dobrih nastopov, zato se bom še bolj potrudil. Z mlado reprezentanco BiH sem zaključil, upam pa, da bom kmalu dobil vpoklic v člansko reprezentanco. Je pa res vse odvisno od mojih iger. V Novi Gorici se po petih letih že počutim kot doma. Tukaj je moj drugi dom,'' je pogovor zaključil Galešić.
V soboto ob 20. uri se bo Hit Gorica v Prvi ligi 2011/12 predstavila širšemu občinstvu, saj boste lahko neposredni prenos tekme iz Domžal spremljali na Šport TV 1.
Foto: Suzana Uršič / Foto atelje Liquid sky
ND GORICA - vse pravice pridržane!