Mitja Pirih je trener vratarjev v kadetski reprezentanci Slovenije
Nova Gorica, 05.01.2012
Pogovor z nekdanjim odličnim vratarjem
Nekdanji izjemni prvi vratar Hita Gorice Mitja Pirih je pred kratkim postal trener vratarjev v kadetski reprezentanci Slovenije U-17, ki bo maja nastopila na evropskem prvenstvu UEFA EURO U-17, ki bo potekalo v Ljubljani, Domžalah, Mariboru in Lendavi.

Ob tej priložnosti je Mitja Pirih spregovoril posebej za nd-gorica.com. ''Selektor reprezentance U-17 Miloš Kostič, s katerim sva bila pri Gorici soigralca, me je poklical in me povabil k sodelovanju. Sprejel sem izziv. Trener vratarjev je po končani igralski karieri moj poklic. Na tem mestu imam vpogled v delo v reprezentanci. Lahko vlečem primerjave s potencialom, ki ga imamo v Novi Gorici. Je zelo zanimivo. Pomeni tudi priznanje, tako zame osebno, kot za klub. Moram se zahvaliti tudi klubu, ki mi je omogočil, da sem to priložnost lahko sprejel.''

Pirih je bil v moštvu Hita Gorice kar 15 let, zaradi česar ga je pred časom odlikovala tudi evropska nogometna zveza UEFA. ''S tem sem seznanjen preko medijev, ničesar uradnega ni bilo,'' pove Mitja.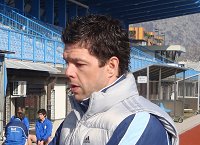 Zelo uspešno igralsko kariero, katere krona so trije državni naslovi s Hitom Gorico, je moral zaključiti zaradi zdravstvenih težav. Po njej se posveča treniranju. Trenutno je trener vratarjev pri kadetski in mladinski ekipi Hit Gorice, ob tem pa pri članski ekipi ND Gorica skrbi za fizično pripravo in trening igralcev, ki se vračajo po poškodbi.

''V nogometu uživam. Tudi v trenerski vlogi se počutim zelo dobro. Rad imam to delo, se izpopolnjujem,'' dodaja Mitja, ki predstave in rezultate članskega moštva v letošnji sezoni ocenjuje takole: ''Uvrstitev po jesenskem delu je odlična. Če bi imela ekipa še nekaj več zmagovalnega karakterja, bi bila točkovno še bližje Mariboru. Ne glede na to so fantje zelo delavni, izpolnjujejo navodila trenerja. Res škoda, da smo v končnici tekem tolikokrat ostali brez potrebnih točk. Če primerjam današnje moštvo z ekipo iz leta 2003/04, ko smo bili ob koncu za marsikoga presenetljivo prvaki, bi rekel, da smo imeli tedaj nekaj več zmagovalne miselnosti.''

ND Gorica – vse pravice pridržane!