IZJEMNO! PETARDA BELO-MODRIH!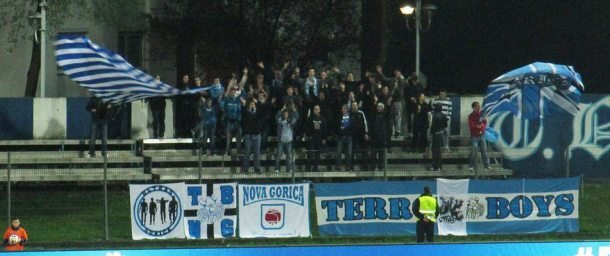 Nova Gorica, 16.04.2014
Dvakrat je zadel Coda, po enkrat pa Vetrih, Misuraca in Lapadula
Po štirih sušnih tekmah tokrat izjemen strelski večer belo-modrih.
Tekmo s Celjani so Novogoričani začeli s spremenjeno obrambo. Kaznovanega Marca Moloda in obolelega Alena Jogana sta v osrčju nadomestila Tine Kavčič, ki je zaigral po daljšem času ter Abel Gigli. V napadu je delovala trojica Coda – Lapadula – Finocchio.
Začetek je nakazal potek tekme. Tokratni kapetan Amedej Vetrih je v 14. minuti načel celjsko mrežo, potem ko je dobro zadel odbito žogo. Po izvedenem avtu je žogo do Vetriha podaljšal Coda. Isti igralec je kmalu zatem streljal še enkrat, merilne naprave pa je preizkušal tudi Lapadula.
Celjani so se po dvajsetih minutah opogumili in trikrat zagrozili domačemu vratarju. V 25. minuti je strel Žureja zelo dobro zaustavil vratar belo-modrih Alex Cordaz.
Novogoričani so do dvojne prednosti prišli v 35. minuti. Finocchio je podal z leve, Massimo Coda pa po dolgem času znova zabil v Prvi ligi. Neapeljčan je do naslednjega gola čakal le štiri minute. Po kotu in nespretnem posredovanju gostujoče obrambe ter kratki podaji Misurace, je v 39. minuti povišal na 3:0. To je njegov 14. gol letos.
Takoj zatem so imeli Celjani priložnost prek Miškiča, Vetrih pa je v izdihljajih prvega polčasa zatresel še okvir gostujočega gola.
Emocije so se nadaljevale. Že v drugi minuti drugega dela je po podaji Ronalda Vanina z bližine z glavo zadel Gianvito Misuraca. Tudi po četrtem doseženem zadetku so belo-modri delovali poletno, povsem drugače kot na prejšnjih tekmah.
V 58. minuti je Lapadula padel v kazenskem prostoru, sam vzel žogo, a mu je strel z bele točke ubranil gostujoči vratar Kotnik. Toda Torinčan se je z zadetkom za 5:0 odkupil le nekaj trenutkov pozneje. Pred vrati je prejel podajo Filippa Bonipertija.
Že po četrt ure igre v drugem polčasu se je trener Apolloni odločil za dvojno menjavo. Finocchia je nadomestil Boniperti, Vetriha pa je zamenjal Nigerijec Marshal Mfon Johnson. Kmalu zatem je namesto Favallija zaigral Širok.
Ko konca srečanja sta znova streljala še Coda in Misuraca, pri gostih pa Miha Zajc in Nejc Kolman. Rezultat se ni več spremenil.
To je bil odličen uvod v serijo domačih tekem. Že v soboto Novogoričane čaka dvoboj s Triglavom.
ND GORICA : NK CELJE 5:0 (3:0)
Športni park, sodniki: Žnidaršič (Kranj), Prelog (Preddvor), Švarc (Ivančna Gorica).
Strelci: 1:0 Vetrih (14.), 2:0 Coda (35.), 3:0 Coda (38.), 4:0 Misuraca (47.), 5:0 Lapadula (62.).
Gorica: Cordaz, Vetrih (od 61. Johnson), Coda, Lapadula, Finocchio (od 61. Boniperti), Kavčič, Vanin, Favalli (od 69. Širok), Berardocco, Misuraca, Gigli.

Celje: Kotnik, Vrhovec, Verbič, Bilali (od 67. Vidmajer), Korošec, Gobec, Miškić, Žitko, Zajc, Žurej (od 80. Jovanović), Rajšel (od 46. Kolman).