Predsednik Hari Arčon pojasnil stanje v klubu
Nova Gorica, 22.07.2015
S sredine tiskovne konference
V sredinem popoldnevu je na uradni tiskovni konferenci pred medije stopil predsednik ND Gorica Hari Arčon.
Po uvodnem pozdravu je sprva povedal:
''V teh slabih dveh mesecih smo se v na novo izvoljeni klubski ekipi namenoma želeli umakniti javnosti, da bi odprli to ''klubsko škatlo'' in sploh videli, kaj je v njej. Ugotovili smo, da klub potrebuje temeljito sanacijo in da bomo storili vse, da se izognemo stečaju. Ta bi pomenil, da bi razpustili člansko ekipo in da bi številni otroci pristali na cesti. Poleg tega nihče od upnikov ne bi ničesar dobil. Naš cilj je jasen – stabilizacija kluba in sporazum z vsemi upniki o postopnem poplačilu delnega dolga. Želimo namreč, da bi iz dela dolga vsak dobil vsaj nekaj, ne pa da bi vsi izgubili vse. Čakali smo, kaj se bo na sodišču zgodilo s Parmo. Javnosti želimo predstaviti realno sliko.''
Nadaljeval je: ''V teh dveh mesecih smo dobili pomembno spoznanje. Tako igralci kot trenerji in številni sodelavci kluba so do ND Gorica pokazali izjemno naklonjenost. Skoraj z vsemi smo podpisali sporazum o delnem odpustu dolgov in poplačilu dolgov v 6 letih. To je izjemno pomembno, da ta dolg z nekaj odpusta razdelimo na več delov. Gre za izjemno pomembno, temeljno potezo, ki nam danes sploh omogoča naše delo. Zelo pomembno je, da predstavimo kredibilen sanacijski program, ki ga tudi dejansko lahko uresničimo. To dolgujemo do igralcev, vseh sodelavcev ter posebej do sponzorjev. S pravo komunikacijo so nam vsi prišli naproti, tudi lokalne organizacije, ki morajo biti pri tekmah nujno poleg. Lahko izjemno pohvalim tudi dobavitelje in lokalno okolje za posluh. Ponavljam, dobili smo potrditev, da ima ND Gorica močno podporo ljudi iz širšega okolja.''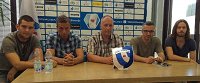 Prizor s tiskovne konference.

Z leve: kapetan Alen Jogan, trener Miran Srebrnič, predsednik Hari Arčon, član IO Sebastjan Komel, direktor Sebastjan Komel

Ob tem je povedal: ''Kljub temu, da celotna nova vodstvena ekipa dela praktično 10 ur na dan, nam primanjkuje ljudi, ki bi bili s svojo zavzetostjo in prostovoljnostjo pripravljeni pomagati. Toda vsega se v dveh mesecih ne da postoriti. Prav tako srčno pozivam lokalno gospodarstvo, da naj klubu pomaga. Glede na stanje, potrebujemo močno finančno injekcijo, da bi se lažje odzvali na vse težave, ki še niso rešene.''
Glede na to, je pojasnil: ''V zadnjem času so se nam pojavile štiri velike težave. Eden je dolg do države, druga se nanaša na registracijo bivšega igralca Jormana Aguilarja. S strani mednarodne zveze smo dobili odredbo, da moramo klubu iz Paname plačati solidarnosti prispevek, ker je ta igralec tukaj pred dvema letoma podpisal profesionalno pogodbo. Vsota je 88 tisoč evrov. Enak je primer Nicolasa Šumskega. Vsi pa vemo, koliko sta ta dva igralca sploh nastopala. Eno veliko težavo pa imamo v sedanjem moštvu, ko ima igralec iz preteklega obdobja zelo bogato pogodbo. Z njim (kot edinim) še nismo našli skupnega jezika, zadeve so celo na sodišču, kar si zagotovo nismo želeli. Resnično upamo, da bomo tudi z njim našli skupni jezik.'' Arčon je dodal, da so ti primeri najbolj pereča jabolka, ki zelo resno ogrožajo prihodnost kluba. V vsa so že zagrizli.
Kar se prihodnosti tiče je dejal, da je najprej potrebno znava vzpostaviti zaupanje z navijači, lokalnim okoljem, starši, igralci, sodelavci. Ekipi bodo priključeni mladi, postaviti je potrebno piramido, da ne bomo izgubljali igralcev.
Ob koncu je poudaril, da so po vseh težkih zadevah prvi znaki okrevanja kluba pozitivni, da pa bo do dokončne sanacije in zdravih temeljev potrebnega še veliko dela.
O tem kaj sta pred novinarji povedala trener Miran Srebrnič in kapetan Alen Jogan, pa kmalu na tej spletni strani.
ND Gorica - vse pravice pridržane!

Foto: ND Gorica