Grega Sorčan: o svoji karieri, o Gorici, o nedeljski tekmi s Krškim, o reprezentanci
Nova Gorica, 21.08.2015
Odličen vratar posebej za nd-gorica.com sporoča: ''V nedeljo si ekipa želi številčne podpore s tribun. Gremo na novo zmago!''
Še ne dvajsetletni vratar Grega Sorčan (nekateri ga še vedno napačno imenujejo Gregor) je z izjemnimi obrambami v prvih šestih krogih novega prvenstva nase pritegnil soj žarometov. Kar trikrat je bil izbran za najboljšega vratarja posameznega kroga. Preprost fant iz Spodnjega Brnika na Gorenjskem je posebej za nd-gorica.com delil občutke in dogodivščine iz svoje dosedanje kariere.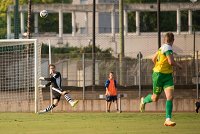 O začetkih
''Začel sem pred približno desetletjem pri klubu NK Velesovo. Nato me je pot vodila k NK Triglav Kranj, kjer sem nastopal do mladincev. V tistem času sem bil član reprezentance U-17 in na kvalifikacijskem turnirju v Bosni in Hercegovini mi je šlo res dobro. Mislim, da sem kar trikrat ohranil mrežo nedotaknjeno. Po tistem mi je ves čas zvonil telefon. Bil sem precej zmeden, saj sem bil zelo mlad in takšnega navala klicev od menedžerjev do trenerjev nisem bil vajen. Priznan, da nisem vedel, kam naj grem. Potem se stopil v stik z menedžerjem Marcelom Kačinarijem, ki mi je predstavil ponudbo Chieva Verone. Odločil sem se in podpisal. Tam sem ostal leto in pol. Osvojili smo mladinsko prvenstvo Primavera, ki je v Italiji zelo cenjeno. Presenečenje je bilo, da nam je to uspelo, saj smo premagali vse velikane. Večji del sezone sem bil prvi vratar. Tedaj so tudi italijanski mediji začeli pisati o meni in me prepoznavati.''
O prihodu v Gorico
''Moja velika želja je bila, da bi si čimprej dobil člansko ekipo, kjer bi branil. Pri Chievu so mi letos ponudili status tretjega vratarja, a ga nisem sprejel. To bi pomenilo, da bi samo treniral in nič branil. ND Gorica je znana po tem, da zelo dobro dela z mladimi nogometaši. Imamo dobrega trenerja vratarjev Boruta Mavriča, zato sem se odločil, da bom nekje redno branil. Za mladega vratarja je daleč najbolj pomembno, da si pridobi nekje mesto v članski ekipi. Denar mi sedaj ni pomemben. Če bom dobro delal, bo že prišel.''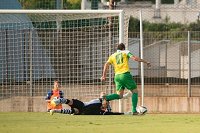 O počutju
''Za zdaj je vse izjemno. Ekipa je mlada, igralci smo prava klapa. Na vsakem treningu se trudimo, na tekmah imamo velik motiv. Tudi sam sem s svojimi predstavami zelo zadovoljen. Moram priznati, da smo imeli tudi nekaj sreče, ampak, če nisi pogumen, tudi sreče nimaš.''
O pokalnem izpadu
''Ja, zgodilo sem nam je, da smo izgubili proti tretjeligašu. Tega si ne bi smeli privoščiti, ampak pride tudi takšna tekma. Če sem prej rekel, da smo imeli v prvenstvu nekaj sreče, nam je tokrat obrnila hrbet. Imeli smo lepe priložnosti, trikrat zadeli okvir gola. Ni kaj. Že naslednjega dne smo si rekli, da je potrebno to pozabili in da so pred nami nove pomembne tekme. Ni bilo slabe volje, samo nekaj grenkega priokusa.''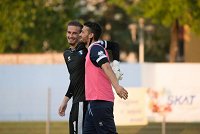 O tekmi s Krškim
''Že nedeljska tekma po pokazala naš karakter. Moramo prebroditi pokalni izpad in nadaljevati z zmagami. Igramo doma, smo v formi. Resnično si želim še večje podpore publike, saj jo naša mlada ekipa potrebuje. Čaka nas Krško, ki je novinec. Nismo presenečeni, da jim gre tudi njim dobro. So polni elana, želijo se dokazati. Pričakujem odprto tekmo, dinamično in seveda našo novo zmago.''
O reprezentanci
''Bil sem član reprezentanc U-17 in U-19. Ne skrivam želje po vpoklicu v mlado izbrano vrsto, a se s tem ne obremenjujem. Seveda je vse v prvi vrsti odvisno od mene. Moram nadaljevati z dobrimi predstavami in na tak način verjamem, da bom prepričal selektorja.''
ND Gorica – vse pravice pridržane!
Foto: Foto Lado / ND Gorica