Miran Burgič ekskluzivno za nd-gorica.com
Nova Gorica, 05.09.2015
O prvem mestu na lestvici, o primerjavah, o golu proti Kopru
Iz Zagorja ob Savi se je pri 15. letih preselil v Novo Gorico, kjer je v šampionskem obdobju novogoriškega nogometa med letoma 2004 in 2006 zablestel v polnem sijaju. Bil je najboljši strelec ND Gorice v sezoni 2005/06 in se poleti 2006 podal v tujino. Nosil je drese švedskega velikana AIK Fotboll iz Stockholma (bolj znan kot AIK Solna), avstrijskega FC Wackerja iz Innsbrucka, izraelskega Hapoela Ramat Gana FC ter ciprskega Ethnikos Achnasa FC. Na domačih zelenicah je zaigral za Olimpijo, pred začetkom letošnje sezone pa se je vrnil v Novo Gorico. Za člansko reprezentanco je nastopil na petih tekmah, za mlado na desetih in dosegel tri zadetke. To je Miran Burgič.
Posebej za nd-gorica.com je z veseljem strnil naslednje misli.
O LETOŠNJI SEZONI …
Pogled z vrha je zelo lep. V garderobi vlada prešerno vzdušje, smo odlična klapa. Seveda smo vsi veseli, a evforije ni čutiti. Sprva smo bili še sami presenečeni, da nam gre tako dobro. Po sedmih zmagah pa vidimo, da imamo tudi veliko kakovosti. Ekipa ima velik potencial, čutimo podporo med navijači ter zavzeto delo nove uprave.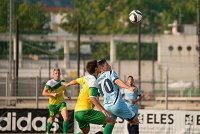 O PONEDELJKOVEM DRUŽENJU V SREDIŠČU NOVE GORICE …
Res lepa poteza uprave, da se je odločila izpeljati tak dogodek. To pomeni povezanost z lokalnim okoljem, navijači, sponzorji, podporniki. Lahko bi postal tradicionalen. Verjamem, da bo ogromno ljudi in da se bomo lepo predstavili. Tudi z novimi dresi. Takšnih dogodkov sem sicer vajen iz tujine.
O SOBOTNEM DERBIJU Z MARIBOROM …
Pred nami sta dve zahtevni tekmi, ki pa se jih še zdaleč ne bojimo. Pridobili smo na samozavesti, zaupamo v svoje sposobnosti. Mi bomo sproščeni, a hkrati odločni, da ne prekinemo niza zaporednih zmag. Vsekakor je veliko večji pritisk tako na Mariboru kot Olimpiji. Ti dve ekipi sta nenehno pod rezultatskim pritiskom. Motiva zagotovo ne manjka, seveda pa se zavedamo, da imata oba tekmeca močni zasedbi. Naš cilj na obeh je jasen – nove tri točke.
O PRIMERJAVI MED EKIPAMA – TISTO PRED DESETIMI LETI IN DANAŠNJO …
Prva razlika je zagotovo v tem, da je bilo včasih zelo malo mladih nogometašev. Danes je to bolj pravilo kot izjema. Tedaj je bilo drugače. Me pa letošnja sezona spominja na tisto 2003/04, ko smo bili povsem neuveljavljeni in neznani nogometaši in smo osvojili prvi v seriji treh zaporednih naslovov. Tudi tedaj je bila Gorica prvovrstno presenečenje. Letos je podobno. Morda pa bomo čez pet let rekli, da je današnja generacija zelo nadarjena, ko bo pol ekipe igralo v tujini. Tudi pol takratne Gorice je nato igralo za reprezentanco. Sicer pa se mi zdi, da so neka področja doživela veliko sprememb, marsikaj pa je enako. Poznam veliko ljudi, ki so še sedaj v ali okrog kluba, a na drugi funkciji. Tu sem bil vedno kot doma.
O PRIMERJAVI S TUJINO …
Kar se tiče Švedske, Avstrije in Izraela je tako, da je tam samoumevno – kar podpišeš tudi dobiš izplačano. Lahko res misliš samo na igro, treninge, regeneracijo. Na Cipru pa je podobno kot pri nas. Klubi so v finančnih težavah in ne morejo izpolniti tistega, kar obljubijo. Sicer pa je razlika med našim prvenstvom in tujino predvsem v organizaciji. Tam je poskrbljeno za vse, do najmanjše podrobnosti. Še najmanj je razlik v kakovosti igre. Ta je približno podobna. Na Švedskem sem bil v velikem klubu, z velikim številom navijačev. Igrali smo bolj trd in hiter nogomet, tudi treningi so bili izjemno zahtevni. Imel sem težave s poškodbami, tako da v nogometu nisem preveč užival. Ostali del življenja pa je bil zelo lep.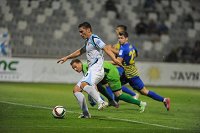 O PRVEM GOLU PO POVRATKU …
Res sem ga vesel. Lani pri Olimpiji nisem imel dobre sezone. Želel sem si, da bi več igral, a tujina bi v poštev prišla le ob res dobri ponudbi. Tako je bila vrnitev v Gorico, kjer bivam vse od leta 2000, naravna. Tu mi je in mi je bili vselej lepo. Tudi zadetka proti Kopru sem izjemno vesel. Sem napadalec in moja uspešnost se bo merila predvsem po doseženih zadetkih.
ND Gorica – vse pravice pridržane!
Foto: Foto Lado/ND Gorica (1. slika), FB Prve lige (2. slika)