Predsednik ND Gorica Hari Arčon za nd-gorica.com
Nova Gorica, 29.09.2015
Vabljeni k branju.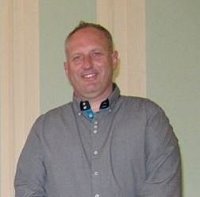 Predsednik ND Gorica Hari Arčon je po prvi tretjini prvenstva posebej za nd-gorica.com strnil nekaj misli o aktualnih temah.
O PREMIERNEM TV STOLPU V ŠPORTNEM PARKU …
Za nami sta dve tekmi, ki sta pomenili tudi izjemen športni in družbeni dogodek. Takih tekem v Novi Gorici ni bilo že veliko let. TV stolp v Športnem parku je na pobudo Kanala A postavil klub - ND Gorica, s pomočjo prostovoljcev in sponzorjev. Vsi smo se strinjali, da morata biti derbija proti Mariboru in Olimpiji prvovrsten dogodek in tako je tudi izpadlo. Izjemno zadovoljni smo z odzivom publike, širše javnosti, medijev, sponzorjev in drugih podpornikov. S tema dvema tekmama smo presegli celotno lanskoletno obiskanost naših tekem. Imeli smo promocijo kluba, našega dela, nekaj smo tudi zaslužili. Iskrena hvala vsem za odziv. Škoda je le, da smo obe tekmi izgubili, a prepričan sem, da bo ekipa iz teh porazov izšla še močnejša.
O PODPORI S TRIBUN …
Kot sem rekel, smo bili po tekmah zadovoljni. Nasprotno pa je prav zadnja tekma s Krko pokazala, da je naša publika zelo zahtevna. Ko je stadion poln, ni bilo slišati žvižgov in negodovanja, nasprotno je bilo proti Krki. Tekma je pokazala, da moramo kot klub na tem področju še veliko narediti in spremeniti. Sedaj bom oster in neposreden: tisti, ki igralce in strokovni štab zmerjajo, ko jim ne gre, nimajo na stadionu kaj iskati! Ostro obsojam žalitve! Ti igralci niso lenuhi in ne vem kaj še vse. Trudijo se vsak dan, tako da si zaslužijo podporo. Razumem negodovanja ob pomanjkanju bojevitosti, ampak nikakor ne sprejemam, da takoj, ko igra ne steče, pričnejo padati žaljivke. To se mora nehati. Ekipa rabi podporo. Predvsem ko ji ne steče. Z vztrajnostjo smo si zmago prigarali. In nenazadnje: imamo 8 zmag in smo le 2 točki za prvi mestom. Kdo si je pred sezono to sploh predstavljal? Vsekakor sem za konstruktivno kritiko, obsojam pa žalitve.
O STANJU V KLUBU …
Klub smo prevzeli poleti, ko je nemogoče sklepati sponzorske pogodbe. Sedaj se organizacijsko krepimo. Iz meseca v mesec smo v boljši kondiciji. Klub si zasluži višji nivo, kot ga ima sedaj. Na tem bomo delali. Kar se tiče financ, naj povem, da imamo za rešiti še tri ''okostnjake'', ki so obvladljivi, ostalo je pod streho. Če ne bi bilo dolgov, bi mirno pluli. Tako pa se borimo iz dneva v dan. Kar se tiče letošnje sezone, je klub doslej izpolnil vse dane zaveze. Potekajo pogovori s potencialnimi novimi sponzorji in partnerji. Sem optimist.
O PO-PRESTOPNEM OBDOBJU …
Na nekaterih igralcih so ''kvazimenedžerji'' pustili precej vtisa. Toda pogovorili smo se, jim povedali pravila igre, ki jih moramo vsi deležniki v nogometu spoštovati. Igralci potrebujejo mir. Sedaj se je ta prestopna vročica umirila in prav je tako.
O SOBOTNI TEKMI S CELJEM …
Kot sem dejal, smo si zmago proti Krko prigarali. Na tem mestu bi gledalce pozval, da naj pridejo podpret ekipo. Naj kupijo karto in tako pomagajo klubu do boljših časov. Tekmi proti Mariboru in Olimpiji sta pokazali, da okolje diha z nogometaši, s klubom. Imeli smo lepo TV kuliso. Ampak želeli bi si večje podpore tudi na ostalih tekmah. Ne pozabimo: smo le dve točki za prvim mestom, imamo mlado ekipo, pretežno z domačimi fanti. Vsa pohvala pa gre Terror boysem, s katerimi zgledno sodelujemo. Proti Celju je cilj nova zmaga in čimveč ljudi na stadionu. Ob tem bi rad povabil tudi vse, naj si v galeriji Foto Lada ogledajo fotogalerijo naših domačih tekem.
ND Gorica – vse pravice pridžane!