Matej Mavrič Rožič novi član strokovnega štaba
Nova Gorica, 22.10.2015
Okrepitev pred nadaljevanjem sezone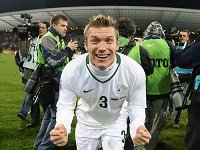 Matej Mavrič Rožič se je z današnjim dnem tudi uradno vključil v izziv, ki ga je ND Gorica z velikim veseljem predstavilo tudi njemu.
"Nogometaša, ki je sodeloval na svetovnem prvenstvu v Južni Afriki danes ni več. Ostale so dragocene izkušnje in čudoviti spomini, iz tega pa se je rodila neizmerna želja in motiv, da klubu, ki me je postavil na nogometni zemljevid, poskušam to povrniti. Brez nikakršnega postranskega interesa in pogoja si želim vstopiti v to zgodbo, ki so jo uspešno začeli moji nekdanji soigralci, nogometni entuziasti, predvsem pa sposobni ljudje. Zahvaljujem se predsedniku Hariju Arčonu, da je v meni prepoznal pripadnost, na kateri temelji celoten sanacijski projekt" nam je posebej za uradno spletno stran ND Gorica nd-gorica.com povedal vedno nasmejani Matej.
Matej Mavrič Rožič bo prevzel vlogo tehničnega koordinatorja pri prvem članskem moštvu, ravno tako pa bo na tem področju sodeloval tudi v mlajših selekcijah Nogometnega društva Gorica.
Matej dobrodošel doma!
Foto: MMC RTV SLO / Veselje ob zmagi nad Rusijo v dodatnih kvalifikacijah za nastop na SP 2010 pred skoraj šestimi leti