Trener Miran Srebrnič za nd-gorica.com
Nova Gorica, 04.11.2015
Pred nedeljskim primorskim derbijem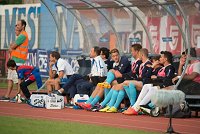 V Športnem parku se nam v nedeljo ob 17.45 obeta primorski derbi. Rivalstvo s Koprčani je močno, zato lahko pričakujemo bojevito predstavo z obeh strani.
V pričakovanju derbija je za nd-gorica.com spregovoril trener belo-modrih Miran Srebrnič.
Zadnja dva poraza je komentiral tako: ''S tekmo v Krškem nisem zadovoljen. V srečanje smo vstopili slabo, brez potrebne bojevitosti. Domači so bili bolj agresivni, imeli smo velike težave. V drugem polčasu smo odigrali nekoliko boljše, imeli nekaj priložnosti za izenačenje, a resnici na ljubo, smo za osvojitev točke pokazali premalo. Povsem nasprotno se je odvila tekma z Domžalami, kjer smo odigrali zelo solidno in bi si točko zaslužili. To sta bila povsem različna poraza.''
Dodal je: ''To je lepa šola za celotno ekipo. Fantje so videli, da je liga zelo izenačena in ni slabe ekipe. Vsi znajo igrati. Če ne bomo šli v vsako tekmo stoodstotno, bomo imeli vselej težave. Fantje so to dojeli. Na treningih se trudijo, tako da sem s prizadevnostjo zadovoljen. Vidim, da čutijo, da so nekaj dolžni.''
Pred primorskim derbijem je dejal: ''Preučujem zadnje tekme Kopra, ki igra zelo trdo, ostro. Vse bo odvisno od nas samih. Motivacija ne bo vprašljiva. Odvisno bo tudi od dnevne forme. Imamo nekaj izkušenih fantov, ki so zaostrili konkurenco, imamo pa tudi nekaj mladih, ki se morajo še marsikaj naučiti. V Kopru smo pred tedni odigrali odlično tekmo, danes je situacija bistveno drugačna. Kot sem rekel, po dveh porazih pričakujem reakcijo fantov. Ob tem pa bi pozval tudi publiko, da nas podpre v velikem številu.''
Trener je še dejal, da branilec Miha Gregorič še vedno vleče poškodbo, Nejc Mevlja pa že trenira s polno paro. Po odsluženi kazni se v moštvo vrača Matija Širok.
V NEDELJO VSI V ŠPORTNI PARK!
Gremo, Gorica!