Trener Miran Srebrnič pred Mariborom in Olimpijo
Nova Gorica, 23.11.2015
Misli našega stratega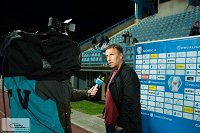 Ob robu sobotnega družabnega srečanja je posebej za nd-gorica.com spregovoril trener ekipe Miran Srebrnič. ND Gorica je zadnjo tekmo odigrala 8. novembra doma s Koprom, naslednjo pa bo 17 dni pozneje, v sredo 25. novembra v Mariboru. Nato jo v nedeljo, 29. novembra čaka gostovanje pri Olimpiji.
Srebrnič je sprva dejal: ''Zagotovo ni dobro, da imamo sredi prvenstva tako dolg premor. Na zadnji tekmi smo prikazali dobro igro, imeli priložnosti, a smo jo zelo nesrečno izgubili. Tudi zaradi zunanjih dejavnikov. Tega ne bomo kar tako pozabili. Treningi so potekali zelo dobro, z zavzetostjo in vsebino sem zadovoljen. Poleg trening tekme v Furlaniji smo imeli v planu še eno, a je padla v vodo. Moram pa reči, da smo tako v našem štabu kot igralci precej boljše razpoloženi, saj se okrog kluba in v klubu dogajajo pozitivne zgodbe. Vidimo, da se vsi trudijo, da želijo Gorico postaviti spet tja, kjer je že bila. Tako tekmovalno kot organizacijsko.''
V sredo ob 17.30 ND Gorica gostuje v Mariboru, v nedeljo ob isti uri v Stožicah: ''Pričakujem izjemno težka obračuna. Toda mi smo nabrušeni, po zadnjih dogodkih tudi malo jezni. Maribor je zagotovo favorit, a na Štajersko gremo igrat in ujet pozitiven izid. Kar se tiče naslednjega gostovanja v Stožicah pa ocenjujem, da bo tam lažje igrati. Moramo vedeti, da je Maribor že nekaj let zelo uspešen, v njihovi igri je veliko avtomatizmov, kar se pozna. Imajo tudi izkušnje. Medtem ima Olimpija nek zagon. Vsekakor imajo dobre posameznike, a na prvi tekmi smo proti njim nezasluženo izgubili.''
Srebrnič je komentiral tudi zadnjo trening tekmo v Furlaniji: ''Prišla nam je zelo prav. Fantje so odigrali zavzeto, dosegli smo pet golov. Bile so tudi slabosti, na katere sem ekipo opozoril. Vsekakor prejmemo bistveno preveč golov. Smo ekipa, ki veliko napadamo, kreiramo igro, a to se pozna v obrambi. To moramo popraviti.''
Srebrnič ne bo mogel računati na poškodovane Matijo Škarabota, Tilna Nagodeta in Miho Gregoriča. Vsi ostali so zdravi.
GREMO, GORICA!
ND Gorica - vse pravice pridržane!

Foto: Foto Lado / ND Gorica