Analiza trenerja ekipe po jesenskem delu prvenstva
Nova Gorica, 16.12.2015
Posebej za nd-gorica.com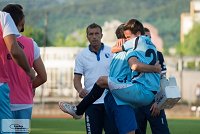 Po jesenskem delu je posebej za nd-gorica.com svoje razmišljanje strnil trener ekipe Miran Srebrnič.
''Poleti smo se znašli v nepredvidljivi situaciji. Po kvalifikacijah za obstanek smo pozno pričeli priprave. V ekipi smo opravili velik rez, se zahvalili tujcem in se naslonili na domače igralce. Obdržali smo tri Nigerijce, za katere smo vedeli, da so dobri. Poleg tega smo dobili tudi nekaj igralcev, ki so tu zrasli ali pa so poznali naše okolje. Želeli so priti nazaj in se dokazati. Vse skupaj se je razpletlo v pozitivno zgodbo,'' je analizo pričel strateg.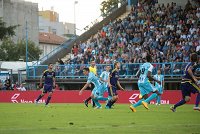 Nadaljeval je: ''Skozi vso polsezono smo igrali na visokem nivoju. Le nekaj tekem je bilo takšnih, ki niso zadovoljile. Tudi tiste, ki smo izgubili, so bile večinoma po igri kakovostne. Fante bi pohvalil: treningi so bili na visoki ravni. Vsekakor nismo pričakovali, da bomo osvojili 35 točk. Po prikazanem pa imam nekaj grenkega priokusa, saj bi lahko dobili tudi kakšno več. Nekaj jih je šlo tudi zaradi sodniških odločitev, a to jemljem kot del športa.''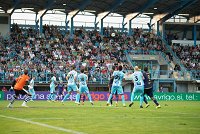 Srebrnič je pojasnil: ''Potem ko so videli, da nismo slabi, so se tudi nasprotniki zelo pozorno pripravljali na naše igre. Doživeli smo spoštovanje. Upam si trditi, da bi se z jesensko zasedbo do konca čvrsto borili za Evropo. Ni skrivnosti, da bo pomladna podoba ekipe nekoliko drugačna. Zelo mi je žal, da se je zgodila poškodba Amela Džuzdanovića, ki je imel odlično polsezono in se je razvil v zelo dobrega igralca. Poleg tega je blizu odhod Blessinga Elekeja, ki bi bil prvi odmeven po dolgih letih. Uveljavitev teh dveh in tudi ostalih nogometašev je velika pozitivna zgodba jesenskega dela. Ob Amelu je tudi vratar Grega Sorčan postal mladi reprezentant.''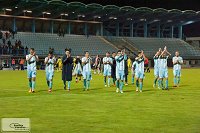 Trener ND Gorice se je naslonil še na odziv javnosti: ''Po desetih letih smo imeli dvakrat poln stadion. To je bilo navdušujoče. Toda ob tem sem razočaran, da tako ni vsak vikend. Očitno ljudje pogosto in dobro spremljajo nogomet in Prvo ligo, a se jim na stadion ne da priti. Ne vem, zakaj.''
Strokovni štab je igralcem med premorom oddal program individualne vadbe, želja Srebrniča pa je, da bi imeli do začetka priprav 11. januarja vsi igralci že razjasnjen svoj status. Obstaja možnost treh ali štirih odhodov. ''Če bo do njih prišlo, bomo zamenjave iskali v prvi vrsti v domačih fantih, ki so željni dokazovanja. Nekaj jih je že dobilo priložnost. Od te usmeritve ne bomo odstopali.''
ND Gorica - vse pravice pridržane!
Foto: Foto Lado / ND Gorica