Uroš Celcer: v soboto šteje le zmaga!
Nova Gorica, 15.04.2016
Pred tekmo s Krko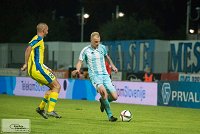 Pred sobotnim obračunom s Krko (Športni park, 19.00) je za nd-gorica.com svoja pričakovanja obelodanil bočni branilec Uroš Celcer.
''Smo v položaju, ko šteje samo zmaga. Še vedno smo blizu tretjega mesta. Za ekipo je to motiv. Moramo biti pozorni tudi na moštva, ki so tik za nami. Vsi igrajo dobro in se počasi bližajo najboljšim. Zato je ta tekma proti Krki še toliko bolj pomembna, če želimo računati na preboj v evropske pokale. Seveda bo veliko odvisno tudi od razpleta poklanega tekmovanja. Veliko lažje bi nam bilo, če bi se v finale prebila Domžale in Maribor, toda na to nimamo vpliva. Kot sem rekel, v soboto šteje le zmaga in verjamem, da jo bomo dosegli. Tudi s pomočjo številne in bučne publike.''
V SOBOTO OB 19.00 VSI V ŠPORTNI PARK!
GREMO, GORICA!