ND Gorica podaljšala sodelovanje z Miho Gregoričem in Amelom Džuzdanovićem!
Nova Gorica, 22.04.2016
Dve kadrovski novosti
ND Gorica z veseljem sporoča, da sta nadaljnje sodelovanje s klubom sklenila pomembna člena belo-modre zasedbe, branilec Miha Gregorič in zvezni igralec Amel Džuzdanović.
ND Gorica in Miha Gregorič sta sklenila pogodbo, ki ju veže do 31.5.2018, klub in Amel Džuzdanović pa pogodbo s časovno veljavnostjo do 31.5.2019.
ND Gorica tako ostaja zvesta igralcem iz domačega okolja in prav ti igralci ostajajo zvesti klubu.
Ob podaljšanju pogodbe z Amelom Džuzdanovićem je predsednik ND Gorica Hari Arčon dejal: ''Amel spada med bisere goriškega nogometa. Številni nogometaši so se po hujših poškodbah vrnili še močnejši in prepričan sem, da se bo tudi Amel. Njegov kapital v našem okolju so na široko odprta vrata, ki mu bodo še pred iztekom pogodbe omogočila prestop na višji nogometni nivo. To je skupni cilj.''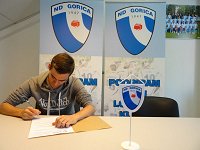 Igralec Amel Džuzdanović je poudaril: ''Trenutno sem najbolj osredotočen na kvaliteto rehabilitacijskega treninga, kar se mi zdi tudi pravilno. V Nogometnem društvu Gorica verjamejo in vlagajo vame. Igralec v moji situaciji točno ve, kaj takšno zaupanje pomeni. Trudimo se za dosego istega cilja in podaljšanje pogodbe je zgolj formalna posledica.''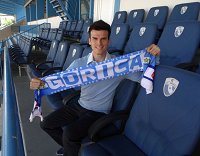 Veselje je ob novem sodelovanju izrazil tudi Miha Gregorič: ''Sezona zame ni bila najbolj uspešna, ker sem imel veliko težav s poškodbami. Običajno se zgodi, da to hitro spremeni odnose oziroma pripelje do nezadovoljstva, zato moram poudariti in se zahvaliti za zaupanje, ki sem ga deležen s strani vseh pri ND Gorici.''
Sebastjan Komel, direktor ND Gorica, je ob tem dodal: ''Rad bi izrazil veliko zadovoljstvo, da se je Miha tako odločil. Tisti, ki nekoliko bolj razume nogomet, ve kaj pomeni njegova prisotnost na igrišču. Mislim, da bi se s tem strinjal tudi naš prvi trener Miran Srebrnič in prav tako vsi njegovi dosedanji trenerji.''
ND Gorica – vse pravice pridržane!