Miran Srebrnič po tekmi s Celjem in pred dvobojem z Zavrčem
Nova Gorica, 24.04.2016
Strateg je pojasnil tudi stanje v moštvu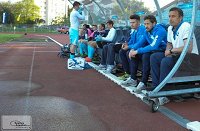 Po domačem dvoboju s Celjem (1:2) je za nd-gorica.com komentiral trener moštva Miran Srebrnič:
''Odigrali smo odprto srečanje, na momente tudi dopadljivo. To se nam je maščevalo. Celjani so odigrali bolj obrambo, a imajo zelo čvrsto ekipo in so v dobri formi. Kaznovali so dve naši napaki, pri katerih smo narobe stali. Puščali smo preveč prostora. Lahko bi iztržili točko, imeli smo priložnosti, kaj več pa zelo težko. Manjkajo nam tudi izkušnje. Učimo se vsako tekmo. V drugem delu smo nekoliko zamenjali sistem igre in želeli biti bolj nevarni, a se nam ni izšlo. Kljub temu smo pokazali precej kombinatorike, zagotovo pa nam je manjkalo zbranosti v obrambi in konkretnosti v napadu.''
Srebrnič je še dejal:
''Še vedno si želimo tretje mesto. To je motiv, ki nas vleče naprej. Do konca imamo še pet tekem. Nikakor se ne bomo predali. Konec koncev tudi četrto mesto ni slabo, ampak se bomo morali potruditi, da ga zadržimo. Kar se tiče igralskega kadra, ste videli, da danes v kadru ni bilo Nejca Mevlje in Marshala Johnsona. Klub ne more biti železniška postaja, da igralci odigrajo sezono in potem odidejo brez odškodnin. V tem primeru je jasno, da morajo biti interesi kluba na prvem mestu. Upam, da bosta oba igralca dosegla dogovor s klubom o nadaljnjem sodelovanju.''
Srebrnič se je tudi ozrl na petkovo tekmo v Zavrču.
''Čaka nas podobna tekma, kot proti Celju. Tudi Zavrč ima nogometaše s podobnimi karakteristikami kot Celje. So fizično močni, agresivni, tako da se bomo morali primerno odzvati. Z bojevitostjo. Odločale bodo malenkosti. Kot sem že dejal, nas zanimajo tri točke. Vsekakor pa bo še ena zahtevna tekma, iz katere želimo izvleči največ.''