Žiga Lipušček novi član Gorice, izbira številke ne dopušča ravnodušnosti
Nova Gorica, 28.06.2017
Nogometno društvo Gorica sporoča, da je Žiga Lipušček s klubom sklenil triletno sodelovanje.
Žiga je zadnja štiri leta nastopal za NK Maribor, kjer je zaigral kot kadet, mladinec ter član razvojne ekipe, ki je vse do konca lanske sezone tekmovala v 3. ligi sever. Pred tem je kar 198 centimetrov visoki centralni branilec za ND Gorico nastopal za selekcijo U-14, U-15 ter eno leto tudi kot kadet.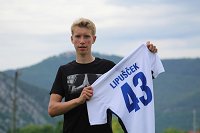 Leta 1997 rojeni nogometaš, ki prihaja iz Dolenje Trebuše, je ob povratku v Novo Gorico sprva dejal: "Seveda sem ob tem zelo zadovoljen. Mislim, da si vsak okoliški igralec želi tukaj igrati. Klub je zares idealen za mlade igralce, ki dobijo priložnost in imajo možnost dokazati se."
Pretekli nastopi v belo-modrem dresu so željo po vrnitvi v drugi najtrofejnejši klub v državi le še povečali: ''Dejstvo, da sem tukaj že igral kot član mlajših selekcij, je zagotovo pripomoglo k odločitvi, da se vrnem. Okolje dobro poznam in lahko povem, da sem se tu vedno dobro počutil. Vsi ljudje v klubu so super, prijazni, lepo so me sprejeli in enako velja tudi za nove soigralce oziroma trenerje. Nekatere sicer poznam že od prej, tako da mi je ob povratku še lažje.''
Lipušček bo na dresu nosil številko 43, razlog za to pa je sledeč: "To številko je nosil moj zelo dober prijatelj, ki je bil na žalost udeležen v tisti hudi prometni nesreči in ga danes ni več. V spomin na njega bom sedaj nosil to številko."
Predsednik ND Gorica Hari Arčon je ob tem dejal: "Žiga Lipušček je bil od vedno naš, čeprav je odšel za določeno obdobje v Maribor. Fantje, ki prihajajo iz tega okolja in ki so bili tukaj vzgojeni in so zaradi drugačnih razmer zapustili klub, so ob povratku vedno dobrodošli. Njihova zgodba je lahko dokaz, da se v Gorici splača ostati in graditi svoje ambicije. Primer Žige ni prvi. Pred tem se je na enak način prav tako iz Maribora vrnil Jani Curk in verjamem, da se bo v prihodnosti še kdo. Zelo pomembno je, da si tudi igralci, ki ne prihajajo iz naše okolice, želijo priti v Gorico, kajti spoznali so, da je ta klub odskočna deska za naprej.''
Arčon je v nadaljevanju dodal: ''Za sodelovanje smo se dogovorili zares hitro, pri tem ni bilo nikakršnih težav, saj si je Žiga želel priti v Gorico. Izpolnil je tudi vse naše normative. Tako kot vsi ostali fantje v našem klubu je marljiv, zvest in delaven. Predvsem se zaveda svojih odgovornosti in to je ključno, tako da sem mnenja, da smo dobili igralca, ki si predvsem želi biti tukaj in to je prvi predpogoj. V bodoče bo prinesel dodano vrednost s trdim in dobrim delom trenerja Srebrniča in njegovih pomočnikov. Za takšne fante se ni potrebno bati, kajti njihov razvoj bo šel samo strmo navzgor.''
GREMO, GORICA!