V ŽIVO iz ATEN: Nocoj ob 21. uri proti Panioniosu
Nova Gorica, 13.07.2017
Odprava novogoriške ekipe je včeraj dopoldan prek brniškega letališča prispela v Atene. Celotno dogajanje lahko v živo spremljate tudi prek Uradne Facebook strani ND Gorica.
Po nastanitvi v udobnem hotelu v predelu Neas Smirnis in popoldanskem počitku so nogometaši pozno zvečer opravili uradni trening na stadionu Panioniosa.
Treniralo je vseh 23 nogometašev, na delu je bilo vseh pet trenerjev. Vreme je bilo začasa treninga precej soparno, takšno je pričakovati tudi tekom nocojšnje predstave.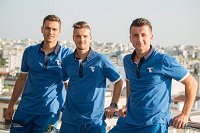 Današnji dan je namenjen počitku, krajšemu sprehodu in odštevanju ur pred izjemno pomembnim dvobojem. Tekma med Panioniosom in ND Gorico se prične šele ob 22. uri po lokalnem in ob 21. uri po našem času.
Panionois je sicer najstarejši grški klub, ki so ga leta 1890 ustanovili prebivalci grškega antičnega mesta Smirnis oziroma Smyrna. To mesto danes leži na turškem ozemlju in se imenuje Izmir. Leta 1922 po grško-turški vojni so klub preselili v Atene, v mestno četrt Neas Smirnis ali nova Smyrna. Tako se imenuje tudi stadion za 11.700 gledalcev.
Klub je bil dvakrat pokalni zmagovalce Grčije, dvakrat pa je v prvenstvu končal na drugem mestu. Tudi v lanskem prvenstvu je na tej poziciji prebil veliko časa, a ob koncu padel na peto pozicijo. Zadnjič je v Evropi nastopil leta 2008, ko je izgubil proti Napoliju. Nekaj let pred tem smo Panionios lahko videli na bližnjem Friuliju v Vidmu. Tedaj so Grki izločili Udinese. Za ekipo nastopa tudi slovenski vratar Matic Kotnik.
To bo tretje gostovanje ND Gorice v Atenah. Pred leti so belo-modri že nastopili proti bolj renomiranima Panathinaikosu in AEK-u.
Tekmo bodo sodili Portugalci. V vlogi glavnega sodnika bo Hugo Migel, njegova pomočnika bosta Antonio Godinho ter Nuno Miguel Roque Conceicao. Četrti sodnik je Fabio Verissimo.
Kot rečeno, spremljajte tudi Uradno Facebook stran ND Gorica.
SREČNO, GORICA!