Prestižna in pomembna zmaga!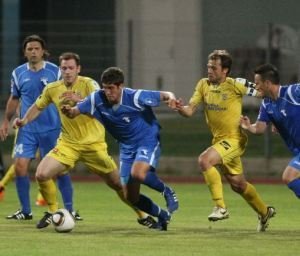 Nova Gorica, 14.05.2011
Zadela sta Goran Galešić ter William Franklin Vicente
V 34. krogu Prve lige 2010/2011 so Novogoričani dosegli pomembno in prestižno zmago nad Domžalami, drugo ekipo letošnjega prvenstva. Utrdili so se na petem mestu.
Trener Miran Srebrnič se je tokrat odločil za bolj preverjeno enajsterico kot ob sredinem uspehu nad Primorjem. V napadu je zaigrala trojica Goran Galešić, Vito Plut in William Franklin Vicente. Na sredini je znova priložnost dobil Enes Demirović.
V srečanje so bolj podjetno vstopili domači igralci. Imeli so nekoliko več od igre, Domžalčani pa so po četrt ure igre nanizali nekaj strelov s kota.
Po precej šahovski partiji je za prvo odločilno potezo v 31. minuti poskrbel Goran Galešić. Ta igralec je izvedel izjemen prodor, preigral dva gostujoča branilca ter z natančnim strelom poskrbel za domače vodstvo. To je bil peti gol Galešića v Prvi ligi 2010/2011, skupno že 13. v dresu ND Gorica.
Po zadetku se je igra malce razživela. Novogoričani so imeli na voljo nekaj prekinitev, pred odhodom na odmor pa so pritisnili gostje, a resneje niso ogrozili vrat Vasje Simčiča.
Podobno taktično igro smo spremljali v drugem delu. Prvo lepo priložnosti so si v 56. minuti pripravili gostje, ko je Luka Elsner po kotu streljal čez gol. Domači so se osredotočili na branjenje svojega položaja in prežali na protinapade.
Drugo zmagovito akcijo so Novogoričani izpeljali v 67. minuti. Miha Mevlja je s podajo v prazen prostor izjemno našel Williama Franklina Vicenteja, ki je preigral gostujočega vratarja ter zadel za 2:0. To je četrti gol Brazilca letos.
Še pred tem je prav Franklin Vicente po lepi priložnosti zadel vratnico. Izjemno priložnost so si belo-modri pripravili tudi v zaključnih minutah. Po kombinaciji je najprej poizkusil Matija Širok, zatem pa še Galešić, a mimo vrat.
V sodnikovem dodatku so Domžalčani prišli do kazenskega udarca. Tega je sodnik dosodil po prekršku Vasje Simčiča, ki je prejel drugi rumeni karton, a je bil pred tem napadalec Domžal v prehitku, ki pa ga je sodnik očitno spregledal.
Ker so belo-modri že izkoristili vse tri menjave, je med vratnici stopil napadalec Vito Plut in skorajda ubranil strel Damirju Pekiču. Ta je postavil končni rezultat 2:1.
Trener Hita Gorice Miran Srebrnič je za RTV SLO po tekmi povedal: ''Čestitam igralcem za zmago in disciplinirano igro, ki so jo pokazali. Odigrali smo dobro tekmo. Po vodstvu smo se postavili zaprto in igrali na protinapade. Tudi po dveh zadetkih pa smo imeli še nekatere priložnosti. Z uspehom sem zelo zadovoljen. Fantje so pokazali, da imajo karakter, voljo do igre. Ta zmaga je potrditev dobrega dela.''
Do konca prvenstva sta le še dve tekmi. Hit Gorica v soboto gostuje v Kranju, prihodnjo nedeljo 29. maja ob 17.00 pa se nam v Športnem parku obeta zaključek sezone.
Tudi s presenečenjem za vse navijače! Ne zamudite! Spremljajte nd-gorica.com!

Hit Gorica : Domžale 2:1 (1:0)
Športni park, sodniki: Glažar (Hajdina), Bezjak (Gorišnica) in Karmel (Maribor).

Strelci: 1:0 Galešić (31.), 2:0 Vicente (67.), 2:1 Pekič (90./11 m).

HiT Gorica: Simčič, Galešić, Zarifović, Vicente (od 78. Rakušček), Kršić (od 82. Širok), Buzeti, Plut, M. Mevlja, Demirović (od 69. Arčon), A. Jogan, Gregorič.
Domžale: Brljak, Teinović, Pekič, Zatkovič (od 80. Ljubijankić), Knezović, Drevenšek (od 77. Hanžič), Smukavec, Juninho, Šimunović, Seferović (od 71. Kovjenić), Elsner.

Rumeni kartoni: M. Mevlja, Galešić, Zarifović, Buzeti, Simčič; Zatkovič, Šimunović, Knezović, Pekič.
Rdeč karton: Simčič (90.).