Uroš Dovžak o ciljih v novi sezoni, spremembah v moštvu ter oceni priprav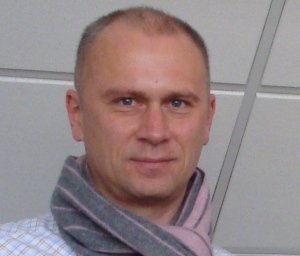 Nova Gorica, 14.07.2011
''Želja je vrnitev v evropske pokale.''
Pred pričetkom novega državnega prvenstva je posebej za nd-gorica.com svoje misli obelodanil športni direktor ND Gorica Uroš Dovžak. Beseda je tekla o pripravah, spremembah v moštvu ter ciljih v sezoni 2011/2012.
''S pogoji med pripravami smo bili izjemno zadovoljni. V Moravcih smo v osmih dneh opravili kakovostne treninge, odigrali štiri tekme. Gostitelji so bili zelo gostoljubni, igrišča so bila vrhunsko pripravljena. Na tekmah rezultat ni bil v ospredju, priložnost so dobili vsi nogometaši. Njihova zavzetost in pristop sta bila na želenem nivoju. Poškodbam smo se v veliki meri izognili. Več težav imamo v zadnjem obdobju, ko sta rahlo poškodovana vratar Darko Brljak ter branilec Uroš Celcer, medtem ko se je v moštvo vrnil Dejan Žigon,'' je pravkar končano pripravljalno obdobje ocenil Dovžak.
Ekipa se tudi tokrat nekaterim spremembam ni mogla izogniti. ''Prestopni rok se je šele dobro začel, tako da so možne še nekatere manjše korekcije v moštvu, jedro pa imamo že sestavljeno,'' je povedal nekdanji aktivni član belo-modre ekipe.
Moštvo so doslej zapustili: Enes Demirović, Admir Kršić, Anže Rupnik, Luka Volarič, Rok Tribušon, Matija Šuligoj, Tine Kravanja ter nazadnje Nemanja Vidić. Prišli so Uroš Celcer, Darko Brljak ter Nebojša Kovačević.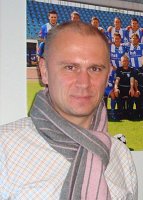 Uroš Dovžak, športni direktor ND Gorica
Cilje v prihajajoči sezoni je Dovžak opisal takole: ''Temelje smo postavili v zadnjem letu. Nadaljevali bomo z istim pristopom in v prvi vrsti še naprej skrbeli za stabilno poslovanje kluba. Smo ena redkih sredin, ki nam je uspelo priti na zeleno vejo in imamo organizacijo, ki deluje zelo dobro. Stroškov ne moremo dvigovati, saj se zavedamo, da smo bili še pred enim letom v izjemno težkem položaju. Klub je zdrav, kar se rezultatov tiče pa bi se najprej ozrl na lansko sezono, ko smo kljub težavam z najmlajšo ekipo v ligi zasedli zelo dobro peto mesto,'' je misli strnil športni direktor in dodal:
''V zadnjem letu se je v ekipi uveljavil nov rod mladih fantov. Brata Mevlja, Matija Širok, Sandi Arčon ter Kris Jogan so mladi reprezentanti Slovenije. Med zimskim prestopnim rokom smo dva igralca prodali v prvo italijansko ligo, Gregor Balažic je odšel v peti najboljši klub v Ukrajini. Vse to je potrditev dobrega dela. Naš konkreten cilj je iz tekme v tekmo pustiti srce na igrišču, se boriti in se, kar se da potruditi. Igralci se morajo zavedati, da je Gorica po lovorikah in uspehih drugi klub v Sloveniji! Da v širšem prostoru nekaj pomeni. Ne smejo jo jemati zgolj kot neko odskočno desko, ampak kot priložnost in zavezo, da bodo z Gorico nekaj dosegli. To je pravi motiv vsem nam. Na koncu bomo videli, kam nas bodo zbrane točke pripeljale. Želja vseh je, da se vrnemo v evropske pokale. Je pa res, da so nekatere ekipe v prvenstvu zelo dobre, izkušene, čeprav je potenciranje nekaterih medijev o t.i. velikih ekipah, med katerimi ni Gorice, naravnost smešno. Lahko še kako obračajo, a obrniti ne morejo ničesar. Dejstvo je, da je Gorica po osvojenih lovorikah in uvrstitvah v vseh sezonah prve lige drugi najuspešnejši klub v državi. To govorijo rezultati in tega nam ne more nihče odvzeti,'' zaključuje Uroš Dovžak, ki bo igralce na uvodni tekmi v novi sezoni spremljal že v soboto ob 20. uri v Maribor.
ND Gorica – vse pravice pridržane!