Miha Gregorič: ''Nagrada pomeni dodatno spodbudo.''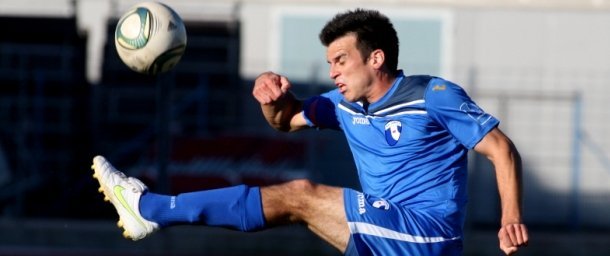 Nova Gorica, 27.05.2012
Pogovor z najboljšim igralcem Hita Gorice po mnenju gledalcev
Pred dnevi je bil za najboljšega igralca spomladanskega dela prvenstva v vrstah Hita Gorice s strani gledalcev izbran branilec Miha Gregorič.

23 letni igralec iz Nove Gorice je bil steber obrambe. Njegove zanesljive igre so opazili tudi gledalci v Športnem parku. Dodelili so mu kar 56% vseh glasov.

Miha je ob tem za nd-gorica.com sprva povedal: ''Seveda sem nagrade zelo vesel. Ima še dodatno težo, ker so mi jo podelili gledalci, ki hodijo na stadion in nas vidijo v živo. Pomeni priznanje in hkrati dodatno spodbudo za nadaljnje delo.''

Gregorič je celotno sezono ocenil takole: ''Rekel bi, da je bila solidna. V prvem delu prvenstva smo bili zares dobri, tudi rezultati so bili odlični, saj smo končani na drugem mestu. Spomladi pa je bilo precej težav, tako na igrišču kot izven njega. Vse je povezano, ob koncu pa smo pristali na sredini lestvice. Lahko bi dosegli več.''

Branilec je nekaj besed namenil tudi svojim predstavam: ''Sem zadovoljen. Končno sem celotno sezono odigral brez poškodb, kar je najbolj pomembno. Zbral sem kar precej nastopov. To mi je utrdilo samozavest , pridobil pa sem si tudi dodatne izkušnje, ki mi bodo gotovo koristile.''

Z ND Gorica ima Miha še dveletno pogodbo. ''Sedaj imamo odmor, nekje sredi junija pa se znova zberemo. Upam, da bodo razmere vsaj nekoliko boljše in bomo v novo prvenstvo vstopili pripravljeni. Mislim, da je to moštvo sposobno doseči še veliko dobrih rezultatov.''

ND Gorica Mihi Gregoriču ob tem izreka iskrene čestitke.