Izjave in utrinki prvega kroga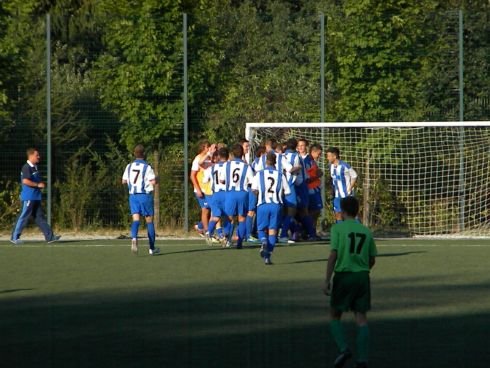 Nova Gorica, 13.08.2012
Mnenja trenerjev o odigranih tekmah prvega kroga prvenstva.
Egon Mevlja, trener ekipe U-14: "Tekmo smo začeli zelo dobro in skozi celoten prvi polčas imeli pobudo ter tudi povedli. Takoj na začetku drugega polčasa smo prejeli zadetek in sledil je razpad sistema. Ekipa ni več delovala vsklajeno. V tem paničnem, brezglavem tekanju po igrišču smo prejeli še tri zadetke in postalo je jasno, da se na tej tekmi nemoremo več pobrati."
David Peršič, kadetski trener: "Prva prvenstvena tekma je za nami, žal se nam ni izteklo po načrtih. Mislim, da smo v prvem polčasu igrali preveč neangažirano in si ustvarili premalo priložnosti. V nadaljevanju smo to poizkušali popraviti in le odigrali nekoliko boljše. Do prejetega zadetka smo imeli pobudo, po tistem pa smo brezglavo poizkušali rezultat izenačiti oziroma ga obrniti v svojo korist. To nam ni uspelo. Mislim da je glavni vzrok za negativen rezultat slab pristop večine igralcev, nekoliko pa smo se tudi ustrašili. V naslednjo tekmo moramo vsekakor iti bolj samozavestno."
Iztok Kavčič, mladinski trener: "Prvo tekmo v prvenstvu smo odigrali zelo dobro, najboljšo v pripravnem delu in začetku prvenstva. Prvi polčas je bil vrhunski. Odigrali smo maksimalno agresivno in nasprotnika stisnili na njihovo polovico. Nad igro smo imeli ves čas kontrolo ter si ustvarili veliko priložnosti, žal pa realizirali samo eno. Lahko bi bilo tri do štiri gole razlike glede na superiornost, ki smo jo kazali v prvem polčasu. V drugem polčasu smo zdržali rahel pritisk domačih, ki so si ustvarili le eno izrazito priložnost. Nato smo zasluženo povišali preko evro-gola iz prostega strela in imeli še nekaj priložnosti za povišanje vodstva. Mirno smo odpeljali tekmo do konca in zato zasluženo uknižili tri točke."