Dejan Žigon pred primorskim derbijem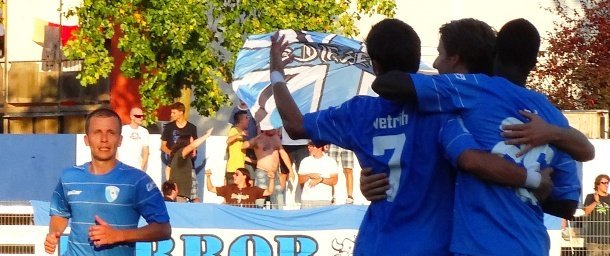 Nova Gorica, 26.10.2012
Prvi strelec Prve lige za nd-gorica.com
Novogoriški nogometaši se odpravljajo v slovensko Primorje. V soboto ob 18. uri jih čaka naslednja preizkušnja. V 15. krogu Prve lige se bodo pomerili z Luko Koprom. To bo drugi letošnji primorski derbi. Prvega so z 2:0 dobili igralci ND Gorice.
O aktualnem stanju v moštvu ND Gorica je za nd-gorica.com spregovoril prvi strelec ekipe Dejan Žigon.
''Vzdušje v ekipi je po dveh zaporednih zmagah precej boljše. Pridobili smo na samozavesti in storili bomo vse, da ta trend pozitivnih rezultatov nadaljujemo. V prvenstvu potrebujemo točke, v pokalu pa imamo prednost z 2:1. Ta je glede na potek zadnje tekme celo premajhna, saj smo imeli priložnost za še boljši rezultat. Kljub temu moramo biti zadovoljni in pred sredino povratno tekmo še kako pazljivi. Kljub dvema našima zmagama, je Aluminij dobra ekipa, tako da se bomo morali za napredovanje v polfinale zelo potruditi,'' je sprva povedal Žigon.
Prvi strelec lige se je nato ozrl na sobotno tekmo na Bonifiki: ''Ta bo zelo pomembna. V Koper gremo po tri točke, ki jih še kako potrebujemo. Gre za primorski derbi, ki v sebi vseeno nosi še dodaten naboj. Smo v dobrem trenutku dveh zmag.''
Žigon se je na zadnji tekmi v Kidričevem po dolgem času (zadel ni vse od 9. kroga proti Rudarju) znova vpisal med strelce: ''S tem se res ne obremenjujem. Na začetku sezone mi je šlo odlično, sedaj sem znova zadel. Upam, da se mi bo odprlo in sem ta krč odpravil. Ne glede na to, pa moji zadetki niso pomembni, če ekipa ne zmaguje. Imamo dobre igralce, ki lahko velikokrat zadenejo. To bomo poskušali tudi v Kopru.''
Zaradi kazni bo na Bonifiki manjkal Senegalec Welle Ndiaye. Vsi ostali so zdravi in pripravljeni na nastop.